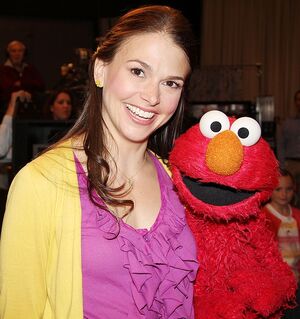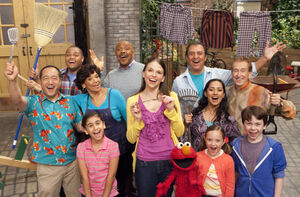 Sutton Foster (b. 1975) is an American actress best known for her work on Broadway and the TV Land series Younger. She has been nominated for five Tony Awards, winning for her role in Thoroughly Modern Millie (which was co-produced by Whoopi Goldberg) and for her role as Reno Sweeney in the 2011 revival of Anything Goes. Foster appeared during season 42 of Sesame Street singing the song "Lever Lover."
She sung with Elmo about levers. Among the lyrics "Its pivoting is riveting to me... I love, love, love a lever/love a lever/love a lever." About Foster, Abby Cadabby told the Wall Street Journal: "This whole time I thought she was saying 'I love liver.' I'm just a big fan. I saw 'Drowsy Chaperone.' I saw 'Young Frankenstein.' Oh, and I also saw 'Shrek.' But I'm not a stalker, I'm a fan." She was kicked off the set, to allow her to practice.
Foster had auditioned circa 2003, to be a regular on the series, shortly after she won a Tony Award for Thoroughly Modern Millie. "I made it down to the final callback, which was with Elmo and another Muppet. I finished my audition and I broke into tears." She has said she still wants to be a regular, if they'd ask her.
In 2019, Foster appeared alongside Cookie Monster in an advertisement for Lactaid.
As a child, she watched The Muppet Show, various Muppet movies, Fraggle Rock, and Sesame Street.
Foster's other Broadway credits include roles in Grease, The Drowsy Chaperone, Mel Brooks' Young Frankenstein, Les Misérables and Shrek the Musical. On television she has appeared on Johnny and the Sprites, Flight of the Conchords (co-created by James Bobin) and Law & Order: SVU. Commenting on his Facebook fan page, Alan Muraoka called Foster "as humble and gracious as she is talented and genius!!!"[1]
Sources
External links
Community content is available under
CC-BY-SA
unless otherwise noted.