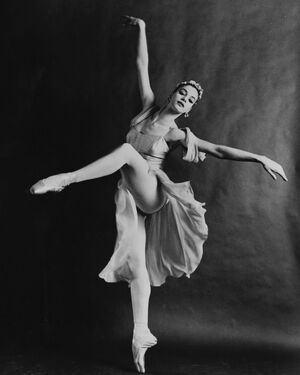 Suzanne Farrell (b. 1945) is a ballerina who performed with the New York City Ballet and founded the Suzanne Farrell Ballet at the Kennedy Center in Washington, D.C.
She appeared in several Sesame Street segments in season 11, including three Sesame Street News Flash sketches; a segment with Grover demonstrating slow and fast; a segment where the Count counted her pirouettes; a narrated segment that ends with eating a large and small lunch; a segment where she supervises Herry Monster, Telly Monster, and another monster as they stretch at a barre; and an unaccompanied segment in which she dances to music from The Nutcracker.
Farrell published her autobiography Holding on to the Air in 1990, and was the subject of the 1996 Oscar-nominated documentary Suzanne Farrell: Elusive Muse directed by Anne Belle. She notably played Dulcinea in George Balanchine's Don Quixote, featured in several episodes of American Masters and Great Performances, and appeared on The Tonight Show with Johnny Carson in 1969.