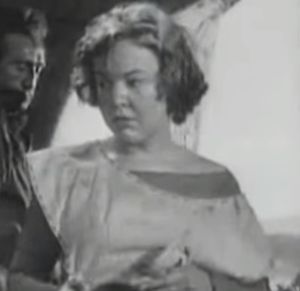 Suzy Westerby, also credited as Susan Westerby and Sue Westerby, is a British actress specializing in voice-over work. She voiced some of the Podlings in The Dark Crystal.
Active on TV in the 1950s, Westerby was often typecast as maids, including the serials Sara Crewe (recurring as Winnie) and The Eustace Diamonds (Patience) and Agatha Christie's play Love from a Stranger (Elsie). She appeared on The Adventures of Robin Hood, which also aired on CBS. On radio during the same period, she played love interest Edith Millbank on the serial Coningsby and was heard in one-off plays from Dostoyevsky to The Man in the Zoo (with Percy Edwards as the zoo animals).
After the fifties, Westerby mostly stayed off-camera, recording commercials, English language albums for the French market, and character voices for The Telebugs and Japanese anime. She returned to both radio and Agatha Christie, playing Mrs. Willet in The Sittaford Mystery (1990). More recent work includes a guest voice on the 2005 Captain Scarlet, elderly voice-over narration for The Minotaur (2006), and a stern prospective mother-in-law in the episodic video game Wallace and Gromit's Grand Adventures (2009).
External links
Community content is available under
CC-BY-SA
unless otherwise noted.