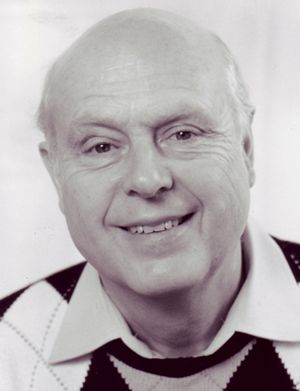 Sven Dahlem (b. 1947, as Sven H. Mahler) is a German voice actor who was heard as Frisky in the German dub of Dog City.
Based in Hamburg, Dahlem has dubbed Edward Fox in Katherina of Alexandria, Christopher Lloyd in Snowmen, Richard Belzer on Lois & Clark: The New Adventures of Superman, Patrick Barlow on Marple, and Timothy West in Bleak House. Cartoon roles include Tex Hex on BraveStarr, Ralph on The Raccoons, Leonard Powers on Ugly Americans, the Scarecrow on Batman: The Animated Series, and Lofty on Bob the Builder.
Dahlem appeared on-camera in episodes of the German crime series Großstadtrevier and Tatort. He has been active in audio recordings since the 1960s, narrating fairy tale albums and sometimes playing character roles as well (such as Puss in Boots). He played adults in the juvenile adventure series The Three Investigators, Ein Fall für TKKG, and The Famous Five. Heard in many video games, both German made and localized, he voiced Finch Josiah in Lands of Lore III, Monty and Clive in Escape from Monkey Island, the vicar Frederick in Black Mirror, Blind Bob and others in Dreamfall: The Longest Journey, and various characters in Star Wars: The Old Republic.
External links