Swan Lake is a ballet by Pyotr Ilyich Tchaikovsky, his Opus 20. It tells the story of a prince who falls in love with a princess, Odette. She has been placed under an enchantment by the evil sorcerer Von Rothbart, and consequently is a swan by day and a human at night. To lift the spell, a human prince must pledge his love for her; to break the sorcerer's power completely, someone must die for her. The prince attends a ball, where the sorcerer disguises his daughter, Odile, to look like Odette. The confused prince declares his intention to marry Odile, and then is made to realize that she is not Odette. The ending of the ballet varies from production to production; several recent versions end with Odette condemned to live as a swan and the Prince grieving. The dual roles of Odette and Odile are danced by the same ballerina.
References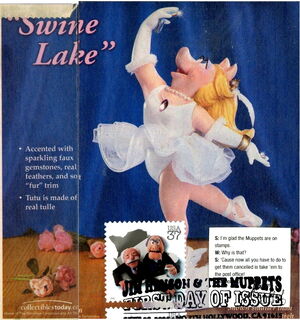 The ballet was spoofed as "Swine Lake" on episode 213 of The Muppet Show. Rudolf Nureyev danced the prince, and, in response to a request he made to dance with Miss Piggy on the show, he is partnered with a Ballerina Pig dancing as Odette and Odile. The hefty pig naturally turns the number into something of a slapstick routine.
Salty and Pierre find a lake containing two swans in a Sesame Street segment. Salty gets the reference to Swan Lake, donning a tutu and dancing to a song from the ballet. (First: Episode 4188)
Connections
John Cleese played Jean-Bob in the 1994 animated version of the ballet, The Swan Princess.
Sandy Duncan played Prince Derek's mother, Queen Uberta in the 1994 animated version of the ballet, The Swan Princess.
Community content is available under
CC-BY-SA
unless otherwise noted.