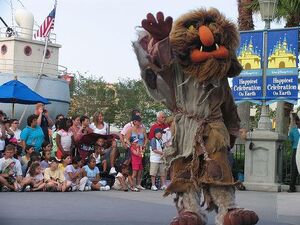 A walk-around Sweetums with a moving mouth was created for the Muppet*Vision 3D attraction when it premiered at the Disney-MGM Studios (now known as Disney's Hollywood Studios) in Walt Disney World in 1990. In the attraction, the character of Sweetums leaves the film and enters the reproduction of The Muppet Theatre to search for Bean Bunny.
Sweetums also appeared as a walk-around (with a static mouth) in Disney's Stars and Motor Cars Parade, also at the Disney-MGM Studios, beginning in 2001 and ending in 2008. He walked the parade route behind the car carrying Kermit and Miss Piggy. He once again followed Kermit and Piggy in the Disney's Honorary VoluntEars Cavalcade parade as part of the Give a Day. Get a Disney Day. campaign. He also appeared at the 2011 D23 Expo.
Community content is available under
CC-BY-SA
unless otherwise noted.