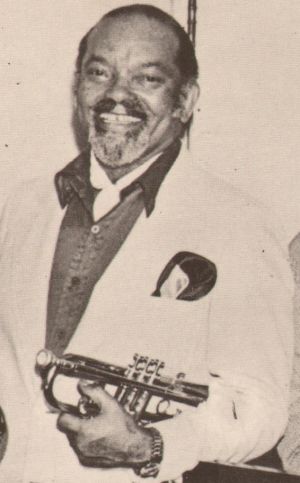 Sy Oliver (1910-1988) was a jazz musician best known for his work as an arranger and composer, although he also conducted, led his own groups, and played trumpet. His best known compositions included "Tain't What You Do (It's the Way That Cha Do It)" (most famously recorded by Ella Fitzgerald) and "Yes, Indeed."
In 1971, Oliver wrote arrangements for The Sesame Street Songbook (including "Bein' Green," "Sing," and others). Some of his arrangements were retained for later editions of the book.
Oliver first gained notice during his stint with bandleader Jimmie Lunceford (1933-1939), playing trumpet, occasional vocals, and especially his arrangements (including "My Blue Heaven"). His trademark as an arranger was his use of two-beat rhythm, which carried on when he joined Tommy Dorsey in 1939, again also receiving spotlights as a player and vocalist. Oliver entered the army and led his own band between 1943-1945, returning to Dorsey and also serving as musical director of the 1946 radio series Endorsed by Dorsey. He went on to serve as musical director for Decca Records (including recordings by Louis Armstrong) and arranged freelance for Frank Sinatra, Count Basie, Buddy Rich and even Jackie Gleason (Jackie Gleason Plays Romantic Jazz). He formed his own group again in the 1970s.
Oliver was an orchestrator at MGM for a time in the early 1940s, including DuBarry Was a Lady (with Lucille Ball, Gene Kelly and Zero Mostel), Girl Crazy (with Mickey Rooney), and Broadway Rhythm. On Broadway, he was arranger or orchestrator for the Tom Sawyer musical Livin' the Life, Oh, Captain! (with Tony Randall), and Doctor Jazz (with Lola Falana.
External links
Community content is available under
CC-BY-SA
unless otherwise noted.