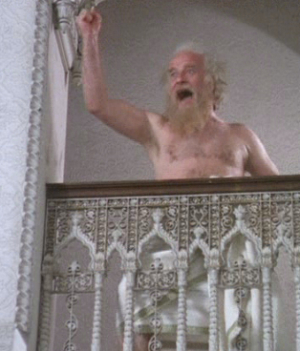 Sylvester Morand is an actor who played Archimedes in the Jim Henson's Creature Shop TV film Gulliver's Travels.
Morand has served multiple stints with the Royal Shakespeare Company off and on since joining in the 1965 season (usually in small roles) and was in the 2000 National Theatre Hamlet, doubling as the ghost of Hamlet's father and the player king. He began appearing on TV in 1966, usually in anthologies or play of the day programming, often as a servant or laborer.
Morand's highest profile assignment was in the 1972 miniseries War and Peace as Nikolai Rostov, one of the principal roles. Later TV included guest parts on The Professionals (with Gordon Jackson), Bergerac, and Squadron. By the 1990s, he had shifted into roles as elderly men, dignified or otherwise, as in an installment of the Sharpe series (with Sean Bean), playing magistrates on Kavanagh QC and The Brief, and in films like 2005's Sense and Sensibility (Sir William Lucas), The League of Extraordinary Gentlemen, and The Seeker: The Dark Is Rising (as a vicar). For BBC Radio, he has been heard in several audio plays, sometimes in French dialect roles.
External links
Community content is available under
CC-BY-SA
unless otherwise noted.