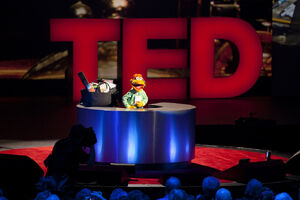 TED (Technology, Entertainment and Design) is a global set of conferences owned by the private non-profit Sapling Foundation, formed to disseminate "ideas worth spreading."
References
Appearances
Scooter
On February 29, 2012, Scooter appeared at the real TED2012 conference as a speaker.[1]
Scooter began his talk as he finished up speaking with Gonzo on the phone, whom he promised — as a life-long Trekkie — that he'd tell J. J. Abrams he'd make a fantastic Klingon. As Scooter ended his time on stage, he revealed to the audience ("don't tell Gonzo") that Abrams had already said he could be a Vulcan (the fictional alien species first portrayed by Leonard Nimoy).
Cookie Monster
Cookie Monster made a live appearance at the 2012 TEDMED conference in Washington, D.C. in April 2012 to learn more about being an ultramarathon runner from champion Scott Jurek, and learned about how eating more veggies and fewer cookies helps.
Kermit the Frog
Kermit the Frog spoke at TEDxJackson in Mississippi on November 6, 2014.
Joey Mazzarino
At TEDYouth2015, Joey Mazzarino did a TED Talk about being a Sesame Street puppeteer.
Michael Davis
Street Gang author Michael Davis delivered the talk "How Sesame Street Has Changed the World" in 2015.
Mentions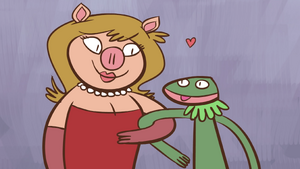 The TED-Ed video "How to Make Your Writing Funnier" by Cheri Steinkellner features Kermit and Piggy animated by Anton Bogaty. (YouTube)
Sources
External links