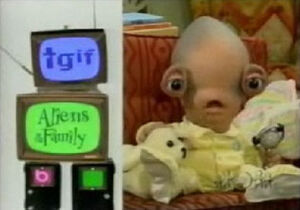 TGIF was a two-hour block of sitcoms shown Friday nights on ABC. The Henson shows Dinosaurs, Muppets Tonight, and Aliens in the Family were all shown on TGIF at some point (Dinosaurs during the shows first and third seasons, Muppets Tonight during the first ten episodes, and Aliens in the Family for the first two episodes).
Some nights of TGIF were hosted by cast members from certain shows in the line-up or another ABC project. The week before the premiere of Aliens in the Family, the cast of Aliens in the Family hosted TGIF.
The Muppets served similar duty when Muppets Tonight premiered, hosting both one week before the premiere, and again during the second week of the show. And a series of short station bumpers were also made for the TGIF block.
TGIF shows
Henson Shows
Other Notable Shows:
Bumpers
Muppets Tonight
These bumpers alternated each week, and were shown before the last commercial break on Muppets Tonight.
Clifford: We're back with more TGIF.
Gonzo: Which will now stand for "Thank goodness I'm freaky!"
Extreme: incoherent babbling
Clifford: Which means, there's more TGIF on ABC!
March 1, 1996[1]
Bumper #1: Kermit and Clifford welcome viewers to TGIF and tell them about their new show, Muppets Tonight, premiering the next week. Clifford tells Kermit they've only got a few minor problems to work out, then Andy and Randy Pig bump their heads into each other, so Clifford says that should be major problems.
Bumper #2: Clifford says they are back to TGIF, which, as Gonzo says, "will now stand for Thank Goodness I'm Freaky" (an edited version of this would be used to lead into the final commercial breaks on Muppets Tonight). Kermit says that's The Great Gonzo, one of the show's familiar faces, and Clifford says that the show will also have some new faces, after which one of The Extremes pops up.
Bumper #3: Clifford stands real close to the camera when saying "you're watching TGIF on ABC". Kermit tells Clifford he doesn't have to stand so close to the screen and Clifford reminds him he's new to this. They talk about some of the guest stars who will be on the show, but Clifford starrily keeps repeating that he'll work with Michelle Pfeiffer.
Bumper #4: Clifford is still mentioning Michelle Pfeiffer, Kermit asks if there's any way to snap him out of it, and Clifford says no. Kermit mentions that Muppets Tonight will have one of a kind acts like Pigs in Space: Deep Dish Nine and Bay of Pigs Watch, when Spamela Hamderson comes by and greets Clifford, so Clifford follows her, with Statler and Waldorf close behind. Kermit then introduces a sneak preview of the new show Hypernauts.
March 8, 1996
Cookie: We're the Brodys with ABC's new comedy, Aliens in the Family. Back with more TGIF.
Heather: Step by Step is up next.
Spit: Tonight, Al has a cow, when she wants a tattoo.
Bobut: Excuse me!

Bobut moves his hand and everyone disappears except for him.

Bobut: Greeting TGIF viewers! I require pudding. So do as I say. Find pudding! Get pudding! Now pudding to me! Repeat.

Bobut moves his hand again and everyone reappears.

Doug: Step by Step, next on ABC.
March 8, 1996
Clifford: Hey, welcome back to more TGIF.
Rizzo: Which I now believe stands for The Gouda Is Fried.
Clifford: No, man, it stands for That Garth Is Funny. And I know because country star Garth Brooks is our special guest on Muppets Tonight coming up next.
Rizzo: He's no fried cheese, but I guess I'll watch.
Clifford:Thanks, Rizz. I'm sure that will make his day.
Penguin: quack, quack
Rizzo: Yeah, yeah.
Rizzo: You know Garth Brooks really is better than fried cheese.
Clifford: I told you so.
Gonzo: Hey, Clifford, I know what TGIF stands for!

Second Gonzo appears

Gonzo & Gonzo: Two Gonzos Is Fantasmicgorical!
Clifford: Yeah that's Fantasmic...yeah whatever. Just wait until you see the premiere of Aliens in the Family. You see half of this family is from another planet.
Gonzo #1: What's so weird about that?
Gonzo #2: Sounds perfectly normal to me.
Clifford: Let's watch, shall we?
Bobut: I require more comedy! Therefore, TGIF must continue. Now!
Clifford: What up? What up? The night's not over yet. There's still more TGIF coming your way.
Waldorf: Hey, Statler, there's more TGIF.
Statler: More TGIF - That Girl Is Fine.
Waldorf: Doh-ho-ho!
Clifford: Oh, you must mean Suzanne Somers on Step by Step?
Waldorf: Well we sure aren't talking about Miss Piggy.
Statler: That girl is frightening.
Waldorf: She's a regular Frankenswine.
Clifford: Stay tuned for Step by Step.
Rizzo: Well that's a wrap!
Clifford: So join us next week for ABC's new TGIF line-up.
Rizzo: Starting with Family Matters.
Clifford: And then Muppets Tonight with our special guest star Mr. Billy Crystal.
Rizzo: And then Aliens in the Family.
Clifford: Followed by Step by Step. And remember TGIF always means...
Randy: There's Glue on the Floor.
Clifford: No, that's TGOF.
Andy: If you say so.
Randy: But there's still glue on the floor.
Clifford: Ah... good night, everybody.
Randy: Good night!
Clifford: Hey, Rizz, can you give me a lift?
References
Sources