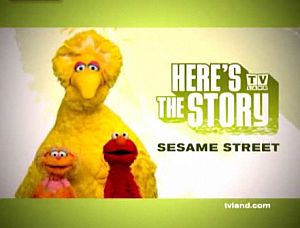 TV Land is a Viacom-owned cable television network which launched in 1996, as an off-shoot of Nick-at-Nite, showcasing classic television series. The network has also produced its own programming, notably documentaries looking at older TV shows and stars, TV in general, and more recently, reality shows, as well as the annual TV Land Awards.
Muppet Appearances and Programming
Beginning in August 2006, TV Land launched "Here's the Story," a new series of interstitials, designed both for use between programs and also for viewing on TVland.com. Hosted by The Early Show weatherman Dave Price, the three to five minute segments interviewed a different person or group who contributed to television pop culture or looked at how fans and collectors express their TV passions. One segment focuses on Sesame Street. Price conducts separate interviews with Big Bird, Elmo, and Zoe, and with their puppeteers Caroll Spinney, Fran Brill, and Kevin Clash.
A commercial, seen on TV Land in May 2008, promoting its syndicated episodes of Extreme Makeover: Home Edition included a clip of Miss Piggy and a separate one of Kermit and Fozzie Bear from when they all appeared on the show. Also featuring clips from an episode with the Seven Dwarfs (walk-around, full-body puppet/costume versions of the characters from Disney's Snow White and the Seven Dwarfs) and another one with clowns, the shots were accompanied by a voiceover: "Building a house in seven days isn't easy. That's why the producers of Extreme Makeover: Home Edition hire only fully licensed and insured dwarfs, Muppets, and circus clowns, to get the job done right."