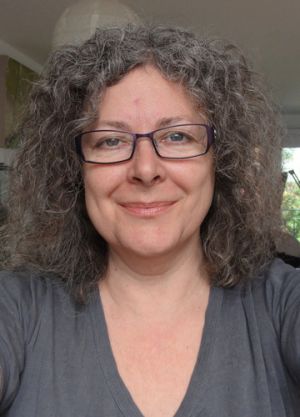 Tacy Kneale (b. 1958) is a British artist who has worked as an animatronic designer since 1989, often for Jim Henson's Creature Shop. She also acted professionally, between 1979 and 1993, and both skills were used on The StoryTeller: Greek Myths, appearing on-camera (but under heavy Creature prosthetics) as one of the Graeae in "Perseus and the Gorgon" and working with the Creature Shop on another episode.
As an actress, Kneale appeared in several BBC miniseries and one-off plays, including Tender Is the Night (with Mary Steenburgen), Dead Head, and To Play the King (from the House of Cards trilogy), as well as episodes of Casualty and the sitcom Brush Strokes. She was a regular for one season of the long-running sitcom Never the Twain (as Donald Sinden's daughter-in-law, 1988) and appeared in the 1989 film Scandal (with John Hurt and Bridget Fonda).
Kneale worked on Harry Potter and the Sorcerer's Stone with the Creature Shop, and went on to work independently as an animatronic designer on three more Harry Potter movies (Chamber of Secrets, Prisoner of Azkaban, and Goblet of Fire). She also exhibits her work as a painter, focusing primarily on insects.
Creature Shop credits
External links
Community content is available under
CC-BY-SA
unless otherwise noted.