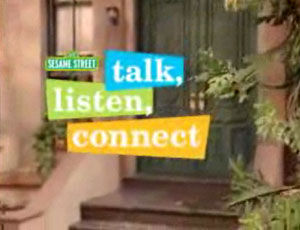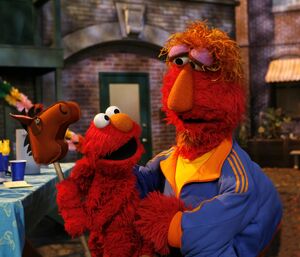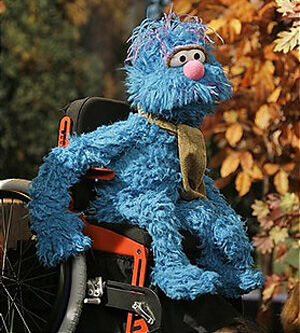 Talk, Listen, Connect is a 2006 Sesame Street educational outreach initiative designed to support military families dealing with deployments, homecomings, and changes.
The specials were produced by Sesame Workshop in partnership with Wal-Mart Stores, and have been made available to schools and parenting groups for no charge. The special videos are also available for download by Sesame Workshop and Akamai Technologies at sesameworkshop.org, and on a DVD made available in a free kit from Military OneSource.
From 2006 to October 2008, 800,000 kits were distributed; Sesame Workshop recently received money from the Department of Defense to create another 300,000 kits.[1]
The project includes Sesame Street Family Connections, a social networking service for military families.
Resource videos
The first resource video in the series, released in 2006, featured Elmo, who faced a difficult transition when his father, Louie, is away. While Louie is away, Elmo's mom consoles her son, and lets him know that it's okay to feel nervous about seeing his father again after their time apart. They pass the time while they're waiting by keeping a daily routine.
The second resource video in the series, released in 2008, featured Elmo, who faced a difficult transition when his father, Louie, returns from being away.
The third resource video in the series, released in 2008, featured Rosita, who faced a difficult transition when her father, Ricardo, returns home in a wheelchair.
Television specials
Cuba Gooding, Jr. hosted a television special entitled When Parents Are Deployed in 2006. The special, part of the Talk Listen Connect initiative, featured interviews with military families along with inserting footage from the original Talk, Listen, Connect production dealing with parental deployment. The special was targeted at educating the general public and adults about the issues and effects of deployment on children, rather than supporting the affected families (as that was focused on in the original resource video and support materials). It re-aired on PBS in April 2009.[1]
Queen Latifah and John Mayer hosted a special, with Elmo and Rosita, that originally aired on April 1, 2009 in conjunction with the "Month of the Military Child".
Aired April 14, 2010, Katie Couric presented personal stories about families coping with the death of a parent, as well as strategies that have helped these families move forward..[1] It was nominated for an Emmy Award. The special features Elmo's family dealing with the death of Uncle Jack.
A free touring show, produced by the VEE Corporation and the USO launched in July 2008. Featuring appearances by walk around characters, the show tours 43 military installations around the country.[2] Parents who attend a show with their children will receive giveaways and outreach materials.[3]
Cast included Elizabeth Stout, Laura Percy, and Jessica Miller.
Sesame Street productions occasionally appear at military based separate from the program, including the Universal Studios Japan characters for the United States Forces Japan in Tokyo.[4]
Sources
External links