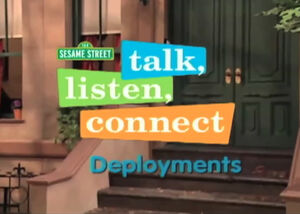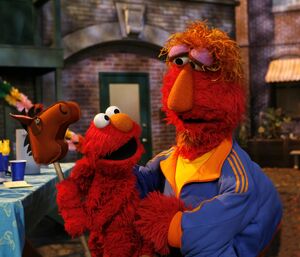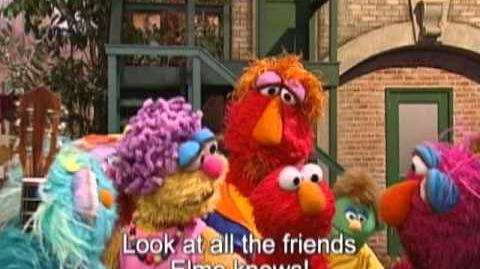 Talk, Listen, Connect: Deployments, the first educational outreach video produced as part of Sesame Workshop's Talk, Listen, Connect series, was first released in 2006.
The special was produced by Sesame Workshop in partnership with Wal-Mart. It's been made available to schools and parenting groups for no charge. The special is also available for download by Sesame Workshop and Akamai Technologies at sesameworkshop.org, and on a DVD made available in a free kit from Military OneSource. The full video is currently available as a free video download via the iTunes Store as part of the Learn Along with Sesame series.
A "For Grown-Ups" companion video was also produced featuring Gordon, Maria and Elmo.
Plot
The resource video featured Elmo, who faced a difficult transition when his father, Louie, is away. While Louie is away, Elmo's mom consoles her son, and lets him know that it's okay to feel nervous about seeing his father again after their time apart. They pass the time while they're waiting by keeping a daily routine. When it's finally time for her husband to come home, Elmo's mom bakes a cake and helps Elmo and his friends decorate for the homecoming.
Performers
Credits
Executive Producer: Kevin Clash
Producers: Joseph Pipher, Christina Delfico
Written by: Christine Ferraro Joseph Pipher
Directed by: Ken Diego
VP, Content Design: Jeanette Betancourt, Ed.D.
Production Designer: Bob Phillips
Senior Graphic Designer: Mike Pantuso
Music Composed and Arranged By Mark Radice
Lyrics By Mark Radice
Senior Muppet Consultant: Kevin Clash
Jim Henson's Muppet Workshop: Jason Weber, Connie Peterson, Rollie Krewson, Michelle Hickey, Jane Pien, Lara MacLean,

Chelsea Carter

Camera: Jimmy O'Donnell, Frank Biondo, Jerry Cancel
Location Director: Joseph Pipher
External links