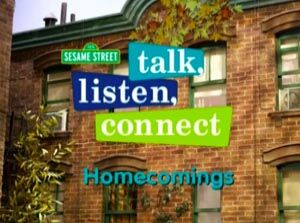 Talk, Listen, Connect: Homecomings, the second educational outreach video produced as part of Sesame Workshop's Talk, Listen, Connect series, was first released in 2008.
The special was produced by Sesame Workshop in partnership with Wal-Mart. It's been made available to schools and parenting groups for no charge. The special is also available for download by Sesame Workshop and Akamai Technologies at sesameworkshop.org, and on a DVD made available in a free kit from Military OneSource.
A "For Grown-Ups" companion video was also produced focusing on dealing with multiple deployments.
Plot
Elmo has to get used to his father, Louie, being back at home. Then when Louie finds out that he has to leave again, Elmo finds it hard to missed him. However, Elmo's Mom told them that they can get through it since they have experienced it before.
Notes
Tyler Bunch performs Louie for two scenes of the special - when he reads Elmo a bedtime story and during the end credits.
This is the only Talk, Listen, Connect video to not feature the "Proud" song.
Performers
Credits
External links