ATTENTION
TALK PAGES ARE NO LONGER USED
To discuss article changes, please use:
If you see comments on this page, they remain for archive purposes.
NEWLY ADDED COMMENTS WILL BE REMOVED
semi-mentions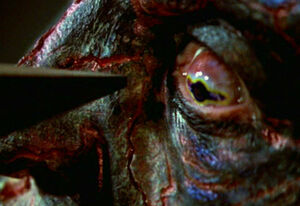 I realize the latest mention I added from the guide book isn't directly a mention made by the Angel TV series, but it fits better here than creating a new entry for it on Minor Book Mentions. Plus, the text is cited on this page already as it is. Also, the accompanying screenshot from "Apocalypse Nowish" is unique as bearing a striking resemblance to Kermit's pupil, a design not often seen elsewhere. I'd hoped there were mention of it in the commentary for the episode, but I haven't come across it yet. —Scott (talk) 08:29, 20 February 2008 (UTC)
Community content is available under
CC-BY-SA
unless otherwise noted.