ATTENTION
TALK PAGES ARE NO LONGER USED
To discuss article changes, please use:
If you see comments on this page, they remain for archive purposes.
NEWLY ADDED COMMENTS WILL BE REMOVED
name sources
Just in case this gets lost in future edits: "In the 2004 direct-to-video special A Celebration of Me, Grover, the Elephant says his name is "Frank." For Season 38, he has been called Horatio: in Episode 4136, he places an ad in the newspaper as "Horatio Elephant," and Gina addresses him as Horatio in Episode 4140." —Scott (talk) 16:34, 21 August 2007 (UTC)
Otis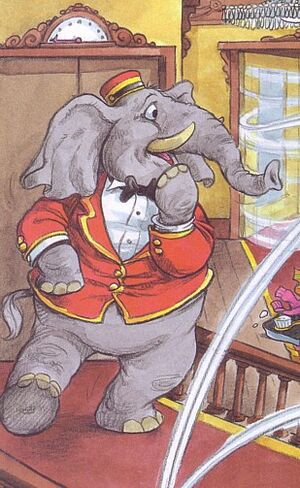 The Elephant appears in the storybook Around the Corner on Sesame Street, where he's called "Otis the Elephant Elevator Operator". The name is a reference to the Otis Elevator Company. My guess is that they gave him that name when they made him a recurring character at the Furry Arms Hotel in Season 25, a year or two after the "Elephant Elevator Operator" song. That name's probably been dropped by now, but it's still an early name for him. Should we change this article's title to reflect that name? -- Danny Toughpigs 02:17, 14 March 2006 (UTC)
More recently, in A Celebration of Me, Grover, he says his name is Frank. I crop both citations up as jokes. He's never officially been established as having a set name. I think "The Elephant" is fine for now. -- Scott Scarecroe 02:27, 14 March 2006 (UTC)

Okay. I added the Otis info to the article... -- Danny Toughpigs 02:46, 14 March 2006 (UTC)
Community content is available under
CC-BY-SA
unless otherwise noted.