ATTENTION
TALK PAGES ARE NO LONGER USED
To discuss article changes, please use:
If you see comments on this page, they remain for archive purposes.
NEWLY ADDED COMMENTS WILL BE REMOVED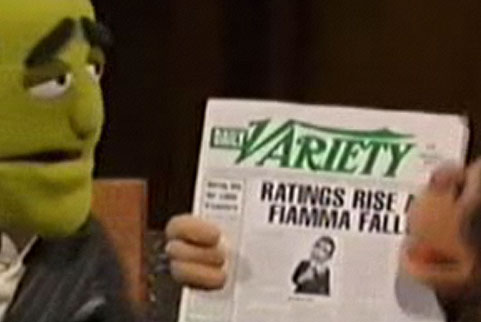 Does this affect the official spelling of Johnny's name at all? -- Scarecroe 19:42, 23 January 2006 (UTC)
Bill Barretta created the character, and he spells it Fiama. Some Muppets Tonight writers disagreed, so it was sometimes written Fiamma in scripts. That's where that prop misspelling comes from. --Erik Ebrowne 19:56, 23 January 2006 (UTC)

Sounds like some fun trivia for the article (hint, hint). -- BradFraggle 05:25, 24 January 2006 (UTC)
Community content is available under
CC-BY-SA
unless otherwise noted.