ATTENTION
TALK PAGES ARE NO LONGER USED
To discuss article changes, please use:
If you see comments on this page, they remain for archive purposes.
NEWLY ADDED COMMENTS WILL BE REMOVED
Not the Alphabet song
Somebody here claimed that Judy sang the Alphabet Song as a madrigal with Snuffy. Actually, Judy never sang the Alphabet Song with Snuffy. They did sing the alphabet as a light opera duet. The music, however, is entirely original, and sounds nothing like the Alphabet Song.
And another thing: it is not the same as the Madrigal Alphabet, which is an animated sketch. The music for Judy and Snuffy is inspired above all by Mozart. For those of you who know Le nozze di Figaro, listen out for a direct quote in the middle section of the corresponding page of Non più andrai.2s1a3s5 19:41, April 15, 2010 (UTC)
Judy Sings with Snuffy
Is that Marty Robinson as Snuffy singing the alphabet song with Judy? Doesn't sound like him except when he talks. Max riverbottom 01:17, December 14, 2009 (UTC)
That segment was from Episode 1051; in season 8, Snuffy was still Jerry Nelson. -- Zanimum 16:42, December 14, 2009 (UTC)
Cast Member?
Wasn't she a cast member during the 1970s? I seem to remember an episode in which moved away from Sesame Street, and everybody said good bye. Peace. —MuzikJunky 09:13, 5 February 2008 (UTC)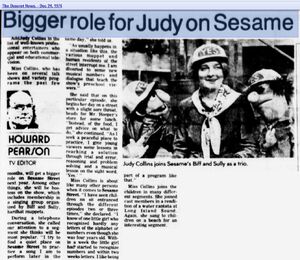 Bringing this up again in light of the discovery made by Tony here. Should we list her as a Sesame Street cast member? And if so, should she have a separate page for the "Judy" character she played on Sesame Street the way we have Buffy? Conversely, I wonder if we should merge the Buffy pages. Unlike Bob McGrath who plays Bob Johnson, Buffy was playing herself, talking about her real life on the show, complete with kid and all. —Scott (talk) 05:58, November 30, 2009 (UTC)
I don't think Judy was intended to be a cast member. She sparsely is mentioned in the archive's episode guides, and is mentioned only for her various guest appearances. -- MuppetDude 16:36, November 30, 2009 (UTC)
Community content is available under
CC-BY-SA
unless otherwise noted.