who puppets?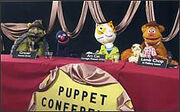 Found this on my hard drive. Anyone know who the other puppets are, and if there's enough information to create a page about this event? —Scott (talk) 04:26, 15 April 2009 (UTC)
Does that say "Art Cat"? If so, IMDb has absolutely nothing relevant, and first glimpse of Google is useless too. -- Zanimum 17:55, 16 April 2009 (UTC)
Visit the wikia
I'm not sure if it would be good to add this considering a Lamb Chop wikia site I made isn't finished, but would it be okay to add a link to LAmb Chop Wiki? Mitch (talk) 20:49, October 28, 2013 (UTC)
Community content is available under
CC-BY-SA
unless otherwise noted.