ATTENTION
TALK PAGES ARE NO LONGER USED
To discuss article changes, please use:
If you see comments on this page, they remain for archive purposes.
NEWLY ADDED COMMENTS WILL BE REMOVED
So, I'm digging into the LIS DVD I recently acquired to get some grabs of "the Robot" and I'm finding that they didn't really include any full-body shots in the whole movie. There's a production gallery on the disc, but it's just drawings. The real treasure however, was found in the deleted scenes. An entire character was dropped from the final cut of the movie, but not before sequences were filmed from a seemingly meticulously created creature. I haven't been able to confirm Henson's involvement, but it's got Creature Shop written all over it. It was suggested in dialogue that she was meant to have been a grown-up version of Blawp. So anyway, I thought you'd enjoy these findings. —Scott (talk) 19:28, 25 April 2007 (UTC)
Nifty! It's been a far from unmixedly pleasant week (health, sleep, school stress, everything seemingly going to pot), so this does gruntle me more than somewhat. Especially nice when we discover a new unfinished character. -- Andrew Leal (talk) 13:08, 26 April 2007 (UTC)
Creature Shop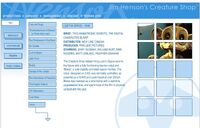 Andrew uploaded this screenshot of an archived LIS page on the Creature Shop website which explains their involvement with the robot. —Scott (talk) 05:52, 18 April 2007 (UTC)
Community content is available under
CC-BY-SA
unless otherwise noted.