ATTENTION
TALK PAGES ARE NO LONGER USED
To discuss article changes, please use:
If you see comments on this page, they remain for archive purposes.
NEWLY ADDED COMMENTS WILL BE REMOVED
Muppet caricature?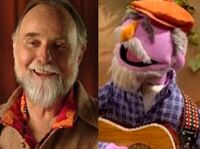 Is this guy supposed to be a caricature of Jerry Nelson? He's played by (and named after) Jerry, both puppets look very similar (especially the facial hair), and both happen to play the guitar. Here's a picture for comparison. -- MuppetDude 14:49, September 11, 2009 (UTC)
I added the info to his page. It was a little unclear to me as there was previous speculation that it was based on Pete Seeger, so I brought it up. -- MuppetDude 13:36, October 6, 2009 (UTC)
Community content is available under
CC-BY-SA
unless otherwise noted.