ATTENTION
TALK PAGES ARE NO LONGER USED
To discuss article changes, please use:
If you see comments on this page, they remain for archive purposes.
NEWLY ADDED COMMENTS WILL BE REMOVED
Portrait of Petula Clark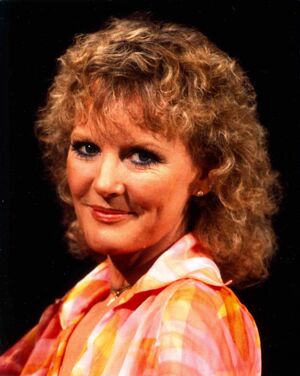 The portrait shot of Petula on this page is from her TMS episode; the giveaway is the costume she's wearing. Both it and the black background indicates the set of "The Boy From Ipanema" number. I bought the photo off eBay and the seller was also selling the photo of Petula on the "Tomorrow" set which is on her TMS page. David French (talk) 05:06, December 11, 2012 (UTC)
Hi, David! That's fine, but we prefer to have something on the page which immediately has a "Muppety" look and feel for the celeb, whenever possible. That's what Jon meant when he said "not Muppet-centric," not claiming it wasn't from the show. I know you've been striving to replace any and all screengrabs because they may be on the episode chart as well, but there's nothing wrong with the occasional repeat (also, we don't include birthday and month for celebs, just Muppeteers, Sesame cast members, people like that).
For now, I'm reverting back to the original version, just like Jon did. But I'm also putting a talk tag and parking the image, which is nice, so it isn't lost. We try not to encourage excessive use of galleries on pages, as discussed elsewhere, but this is a situation where, as a compromise, it would be better to keep the "Hey, it's a star with a Muppet" image (casual visitors neither notice nor care that it may be on the episode page or chart as well, again not every image has to be used only once) right there below the box, *but* either expand the biography sufficiently to include other images (with someone like Bob Hope, that's easy, just because he had so much Muppet relevance) *or* just do a gallery below (reserving *that* for images which are nice and worths haring and not just repeated from other pages). Does that make sense as a compromise to you? -- Andrew Leal (talk) 05:42, December 11, 2012 (UTC)
Community content is available under
CC-BY-SA
unless otherwise noted.