ATTENTION
TALK PAGES ARE NO LONGER USED
To discuss article changes, please use:
If you see comments on this page, they remain for archive purposes.
NEWLY ADDED COMMENTS WILL BE REMOVED
Image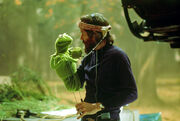 Is this image from the filming of "Rainbow Connection"? Does anyone know where it's from? --Justin 01:21, 9 June 2008 (UTC)
45
I was just about to start putting up information about the US 45 of Rainbow Connection (Atlantic 3610). Do you want to make the US and UK versions separate entries, or combine them? Thanks. -- ErnieBert 05:32, 3 March 2007 (UTC)
Chris14
I say the picture was taken during the filming of "Rainbow Connection" sequence. I once saw this picture in the newspaper about Jim Henson's Fantastic Show and cut it out. I still have though. After all, the musuem shares rare photographs. --User:Julianster 19:08, June 10, 2008
Lea Salonga's cover
I'd like to know for which album Lea Salonga covered "The Rainbow Connection"?
Community content is available under
CC-BY-SA
unless otherwise noted.