ATTENTION
TALK PAGES ARE NO LONGER USED
To discuss article changes, please use:
If you see comments on this page, they remain for archive purposes.
NEWLY ADDED COMMENTS WILL BE REMOVED
image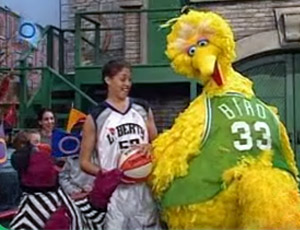 The image on the page is a better celebrity photo (albeit poor quality), but it doesn't have the fun of Big Bird in a basketball jersey. Just parking this here. —Scott (talk) 06:31, 10 January 2008 (UTC)
I don't know why this didn't occur to me before: Larry Bird. —Scott (talk) 02:34, 18 January 2008 (UTC)
Community content is available under
CC-BY-SA
unless otherwise noted.