More attendees
Getty images has Twiggy, David Cassidy, and supposedly Yul Brynner at the premiere. The Twiggy and Cassidy photos look true, I'm not so sure they have the Yul label correct, but I wanted to park the information here for archive purposes. -- Nate (talk) 19:23, June 7, 2010 (UTC)
If it's the one with his daughter Victoria, I'm pretty sure it's him. But my question is, can we still get him on the wiki if there are no Muppets in his picture? Also, did they really have a premiere for a TV special? Did they show it in a theatre? Where and when? -- Ken (talk) 05:57, June 8, 2010 (UTC)
Three more in attendance?

When people are checking out Tim Matheson, keep an eye out for Lesley Ann Warren, Phillip McKeon and Nancy McKeon as well. I found these red carpet photos of them at the event, according to the photo summery. -- Nate (talk) 22:47, December 1, 2009 (UTC)
Tim Matheson?

For Danny or anyone else with reasonably quick access to a tape for reference (SU has one, but that's a hassel right now), anyone spot Tim Matheson? There's strong evidence that he's in there somewhere, from the Associate Press archive: "Actor Tim Matheson of the movie "Animal House," and an unidentified friend arrives for the star-studded event, "The Muppets Go Hollywood," at Cocoanut Grove in Los Angeles, April 7, 1979." That doesn't have to mean he's actually on camera, and I'm on the fence whether to create a page for him simply because he was there, but then again, chances are he must have been caught at least briefly, in the arrivals, and the things so crowded, it's easy to miss people. -- Andrew Leal (talk) 03:50, 11 September 2006 (UTC)
Attached is the actual image, by the way, if that helps in spotting him. Whether he reinforces his fratboy Animal House persona by doing the fist thing on-camera in the special itself, I wouldn't know. -- Andrew Leal (talk) 03:53, 11 September 2006 (UTC)
Cleopatra?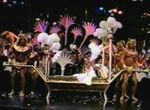 Is Piggy supposed to be doing a Cleopatra thing here? -- Scott (talk) 18:55, 6 July 2006 (UTC)
Well, she sings babyface but she doesn't look like cleopatra, she looks more like shes from the jungle but I maybe wrong, i'll have to look back at my copy. Because the background singing pigs arent dressed as egyptians. - Barry Lee
Celebrities
These are all the celebrities I could spot, but I'm sure there are some that I didn't recognize. If anybody can add more, bring 'em on. -- Danny Toughpigs 21:13, 16 Jan 2006 (UTC)
Community content is available under
CC-BY-SA
unless otherwise noted.