ATTENTION
TALK PAGES ARE NO LONGER USED
To discuss article changes, please use:
If you see comments on this page, they remain for archive purposes.
NEWLY ADDED COMMENTS WILL BE REMOVED
Baby Shower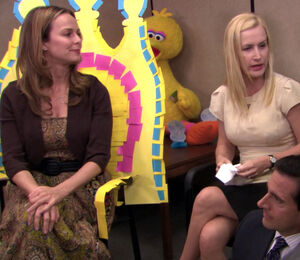 Two weeks in a row, a Sesame mention. Sadly, this is the best shot we get of the Big Bird plushie, which I'm parking here for now. (A few minutes later, we see a different angle of Bird, but he's even more obscured in that shot.) Maybe a nice deleted scene will show up on the DVDs? -- Mark (talk) 08:57, 22 October 2008 (UTC)
Chocolate Rain?
Howdy all. I haven't been around much lately, but I dropped by to factcheck my general Office knowledge. Seems to me that we don't need that youtube link, for various and assorted reasons which any one of the admins could explain much better than me. Thoughts? -- Mark (talk) 17:05, 15 October 2008 (UTC)
Good catch. Apart from our general YouTube policy, this appears to be one of several clips created after the episode aired (and several videos renamed in hopes of getting hits from it) and not a pre-existing thing which was being referenced. I took it out. -- Andrew Leal (talk) 17:13, 15 October 2008 (UTC)