ATTENTION
TALK PAGES ARE NO LONGER USED
To discuss article changes, please use:
If you see comments on this page, they remain for archive purposes.
NEWLY ADDED COMMENTS WILL BE REMOVED
Connections
Do we want to put in any other connections here? I mean there are quite a few among Creature Shop actors and stuff like that who've acted Shakespeare. For example Kenneth Brannagh ran his own company 'The Rennaicence Theatre Company' which acted Shakepeare. I think Ben Kingsley was in the RSC. And I know there are others. Or shall we just stick with Patrick Stewart on the basis that he is the most notable and of course was on Sesame doing that "B or not a B" routine? Emma 21:55, January 27, 2010 (UTC)
Oh, no. Check the history, it's just that Tom placed Stewart as an awkward "See also," and I hadn't got around to adding the voluminous connections, plus really most are already covered on the individual play pages. So feel free to add, just excluding the following, which have their own pages (and any omissions on those pages should go there, of course): Romeo and Juliet, The Merchant of Venice, Richard III, Julius Caesar, and Hamlet. Stewart of course has played Lear and others, but too many to really break down here, and no doubt that applies to others (so if they played everything or nearly everything the bard did, either a general summary or note that they were in so and so company). So go ahead (though with some of the Creature Shop folks, we may be redefining that soon to better match our general policy on celebrity interaction, as far as who qualifies, so some may be pulled later if the pages are deleted or merged). -- Andrew Leal (talk) 22:16, January 27, 2010 (UTC)
Ok, I've added a few, though this may need tidying up. Emma 15:05, January 31, 2010 (UTC)
Patrick Stewart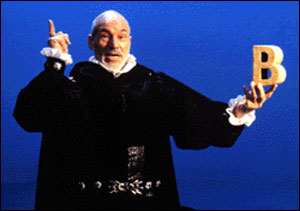 It looks to me like he's doing Hamlet on Sesame Street. Can this be confirmed? — Scott (talk) 14:30, 12 September 2006 (UTC)
Yes...sort of. He's doing a "B or not a B" routine. -- MuppetDude 16:50, 12 September 2006 (UTC)
Community content is available under
CC-BY-SA
unless otherwise noted.