ATTENTION
TALK PAGES ARE NO LONGER USED
To discuss article changes, please use:
If you see comments on this page, they remain for archive purposes.
NEWLY ADDED COMMENTS WILL BE REMOVED
Does anyone know what happened in this sketch?
I bought it on ebay a few years ago... Wozza 00:17, December 31, 2009 (UTC)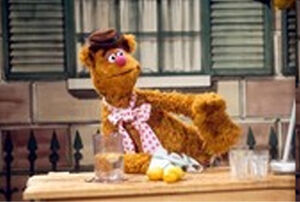 The guest stars never appeared in the UK spots. --Minor muppetz 02:55, December 31, 2009 (UTC)
Fozzie seems to be selling home made lemonade? Is this a sketch/scene form a musical? Wozza 22:30, March 20, 2010 (UTC)
Its from no musical that I can recall. I'm actually wondering if they recorded "If I Were a Rich Man" and cut it from the final edit of the show. That picture would fit in with that song. -- Nate (talk) 15:21, March 23, 2010 (UTC)
In the UK Spot in the episode, Kermit says that Fozzie and Zero were scheduled to do a "pantomime" on the show. Then he calls out "stand by for the pantomime sketch," so the scene could have taken place right after the UK Spot. ... Well, it's a little bit of info, anyway. --Justin 01:51, April 13, 2010 (UTC)
Community content is available under
CC-BY-SA
unless otherwise noted.