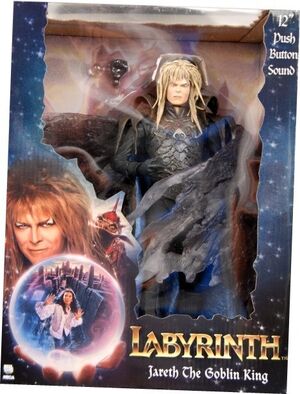 NECA released a 12-inch talking Jareth action figure in 2007. The figure came with a crystal ball accessory and an alternate hand. The talking figure said seven phrases from the film.
The figure features Jareth in his blue outfit from his first appearance in the film and is similar in design to the non-talking figure released in April 2007.
Phrases
"Go back to your room, play with your toys and your costumes."
"I've brought you a gift, its a crystal, nothing more. But if you turn it this way and look into it, it'll show you your dreams."
"But this is not a gift for an ordinary girl."
"Do you want it?"
"Don't defy me."
"You have 13 hours in which to solve the labyrinth."
"It's further than you think, time is short."