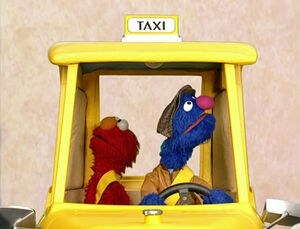 Talking Taxi was a campaign which featured recorded voice messages in all of New York City's over 12,000 taxis, in which celebrities reminded passengers to buckle their seatbelts and take a receipt for their ride. The campaign began in 1997.[1] The final celebrity voice rotation, which appeared in 2001, featured Elmo (as voiced by Kevin Clash) among the voices.[2] Elmo's recording figured in an episode of Deadline.
Other celebrities who participated in the Talking Taxi campaign included Yo Yo Ma, Walt Frazier, Beverly Sills, Dick Clark, Chris Rock, Bernadette Peters, Placido Domingo, and Joan Rivers.
References
In the 2004 anniversary special The Street We Live On, when Elmo gets into Grover's time-traveling taxi, he hears a recording of his own voice, telling him to buckle up. The two monsters are briefly confused.
Sources
Community content is available under
CC-BY-SA
unless otherwise noted.