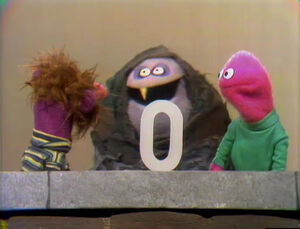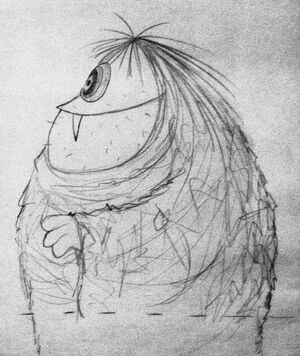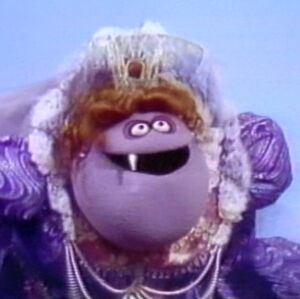 Taminella Grinderfall is the witchiest witch of them all. She was the star of Tales of the Tinkerdee, an unaired pilot created by Jim Henson and Jerry Juhl in 1962. Taminella is excluded by King Goshposh and his circle from the royal birthday party. In retaliation, Taminella plots to steal Princess Gwendolinda's birthday presents through cunning, multiple disguises, and an insistence on obeying the rules of etiquette while planning to rob the king blind. A master of impersonations, Taminella's guises range from Pierre, the greatest sculptor in Tinkerdee, to Santa Claus himself, to even Princess Gwendolinda.
Taminella subsequently appeared as the witch in "Shrinkel and Stretchel", co-starring the RX Twins. She eagerly anticipated consuming the kids, until they informed her of a powerful new magic, Pak-Nit RX, which took her mind off the subject. She made a brief appearance on Sesame Street in a skit originating in Episode 0075, performed by Frank Oz.
The character was revived for the 1971 special The Frog Prince. Though still voiced by Jerry Juhl, Taminella was now a full-bodied character, puppeteered by Richard Hunt.[1][2] Her comedic aspects were also toned down and her power and menace emphasized, to present her as a genuine threat to be overcome. Her actions in the special were far more malevolent than silly disguises and present stealing: she turned Sir Robin the Brave into Robin the Frog; fooled the gullible King Rupert the Second into believing that she was his sister, Aunt Taminella, while plotting to take his throne; and cast a spell on Princess Melora that made her talk wackbirds. She was defeated by Robin, when he figured out how to "bake the hall on the candle of her brain." Afterwards, she turned into a bird, and was never used again in another Henson production.
In the original script for The Great Santa Claus Switch (which was originally titled "The Witch Who Stole Christmas"), Taminella was intended to be the special's villain.[3]
The puppet used for Taminella was recycled as Tommy, who appeared in ads for Kern's Bakery with his partner Fred (previously used as the Prime Minister).
Since 2015, a Taminella Grinderfall puppet has been on display at the Center for Puppetry Arts as part of their permanent Worlds of Puppetry exhibit while another can be seen in The Jim Henson Exhibition at the Museum of the Moving Image.
Filmography
Print appearances
See also
Sources