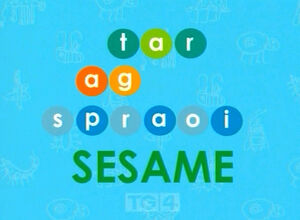 Tar ag Spraoi Sesame, initially referred to as Spraoi Liomsa Sesame,[1] is a Gaeilge (Irish) language dub of Play with Me Sesame that began airing in Ireland on 3 November 2007.[2] The program is broadcast on TG4, the all-Irish-language broadcaster, as part of its Cúla 4 children's block, which also includes Irish-dubbed versions of SpongeBob SquarePants and other US children's series.[3]
Sesame Workshop worked with production company Telegael to adapt the American footage. In the development phase, the title was initially announced in July 2007 as Sraid Sesame (literally "Sesame Street").[4] It was renamed to reflect the initial packaging of Play With Me Sesame episodes, all 78 of which have been dubbed. Translations of other Sesame Street programming may follow.[5]
The series' voice director, Padraic O Neachtain, said they "had to find voices that were as close as possible to the originals and the most likely candidates.... would be sent for approval to the Children's Workshop in the United States where a final decision would be made."[5]
The series' adaptation coincided with the pre-production of Sesame Tree, a Sesame Street co-production for Northern Ireland.
Sources