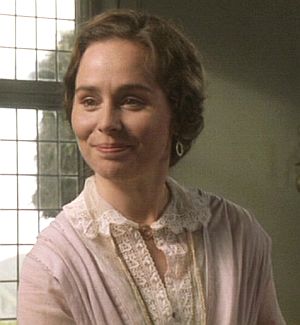 Tara Fitzgerald (b. 1967) is an English actress who played Mother in Five Children and It. Graduating from the Drama Centre in London in 1990, she soon established herself as a leading lady in films, playing opposite Hugh Grant in Sirens and The Englishman Who Went Up a Hill and Came Down a Mountain and Ewan McGregor in Brassed Off. Her other film credits include Childhood and I Capture the Castle (with Bill Nighy).
On stage, Fitzgerald won the New York Critics Circle Best Supporting Actress Award for playing Ophelia opposite Ralph Fiennes in Hamlet. In television, she appeared in The Woman in White, Marple: The Body in the Library, Jane Eyre, and The Virgin Queen.
External links
Community content is available under
CC-BY-SA
unless otherwise noted.