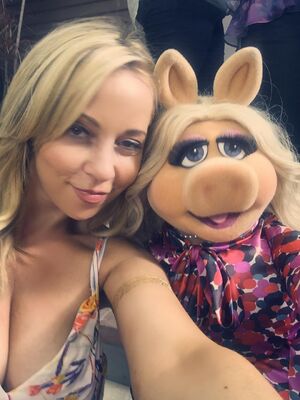 Tara Strong (born Tara Charendoff, 1973) is a Canadian-born actress and singer, best known for her voice acting in animated films, television shows and video games.
Strong voiced Dot on the Dog City animated series, and also provided voices for the Sesame Street video game Once Upon a Monster. In 2015, she took a photo with Miss Piggy during filming of The Muppets episode "Bear Left Then Bear Write," which used her actual place of residence as a filming location.[1]
Some of Strong's cartoon voice roles include Bubbles on The Powerpuff Girls, Twilight Sparkle on My Little Pony: Friendship is Magic, Batgirl on The New Batman/Superman Adventures, Melody in The Little Mermaid II: Return to the Sea, Timmy Turner on The Fairly OddParents, Dil Pickles and Timmy McNulty on Rugrats, Raven on Teen Titans, and the title character of Unikitty! Video game roles include Harley Quinn in various DC Comics titles, Jessica Jones and others in Marvel Comics games, and Risha in Star Wars: The Old Republic.
Sources
External links