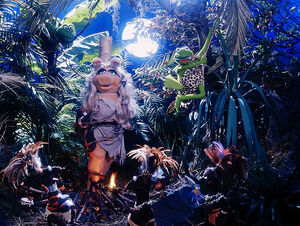 Tarzan, a fictional character created by Edgar Rice Burroughs, first appeared in the 1912 novel Tarzan of the Apes, and then in twenty-three sequels. He is the son of a British Lord and Lady, marooned on the coast of Africa by mutineers. His parents died when he was an infant, and he was raised by Great Apes of a species unknown to science. Kala is his ape mother. Tarzan (White-skin) is his ape name; his English name is John Clayton, Lord Greystoke. As a young adult, he meets Jane, and when she returns to America he leaves the jungle in search of his true love. Tarzan and Jane marry, and he lives with her for a time in England. They have one son, Jack, who takes the ape name Korak. Tarzan is contemptuous of the hypocrisy of civilization, and he and Jane return to Africa where, both being immortal, they still live.
References
On episode 120 of The Muppet Show, an unseen Tarzan can be heard swinging through the African Berry Bush jungle backstage, after Kermit tells Statler that Tarzan is the only one he's going to meet backstage.
In the Muppet Babies episode "The Daily Muppet," Baby Piggy writes a movie review for The Phantom of the Opera. Her scattered interpretation of the film details the titular Phantom trying out for the role of Tarzan, as stock footage from a Tarzan film is shown.
Footage of the riverboat from Tarzan's Revenge (1938) is used in the Muppet Babies episode "Hats, Hats, Hats."
A recurring segment on Sesame Street features kids on a safari who happen upon a letter of the alphabet in the jungle that swings on a vine and yodels like Tarzan.
A monster named Curly in Sesame Street Episode 4174 trades a recently acquired Radar for a stuffed monkey he names Tarzan.
The Wise Old Duck episode of Bert and Ernie's Great Adventures feature Bert and Ernie in an Indiana Jones spoof. When Ernie helps Bert swing across a ravine, he yodels like Tarzan.
In a Facebook post dated September 29, 2011 on his fan page, Fozzie Bear posted, "Ooh, I've got one! What do you get when you cross a zebra with a guy swinging from vines? Tarzan Stripes Forever! Wocka Wocka!"
In Grover's 140 character speech for the Shorty Awards, his second one is Tarzan.
Connections