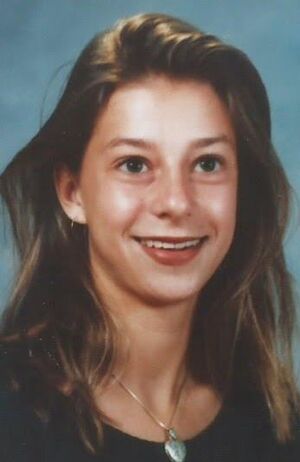 Tawney Richard (1977-1996) appeared as one of the kids in the film Sesame Street Presents: Follow That Bird at the age of seven. Credited as "rescue girl," she and a friend (credited as "rescue boy") find Big Bird imprisoned by the Sleaze brothers and performing as the Blue Bird of Happiness. Watching him sing "I'm So Blue" she remarks that he "sure does" look sad. Later the pair sneak into the carnival tent; she asks if he's real and Big Bird explains his situation and asks the kids to call his friends on Sesame Street for help.
Richard has no other acting credits, but went on to be a successful student athlete - competing in gymnastics, soccer, volleyball, cheerleading, ice hockey, and woman's flag football.[1]
Richard died in a car accident in the summer of 1996 at the age of 19. The Tawny Richard Memorial Girls Hockey Tournament and accompanying Tawny Richard Award and scholarship fund were established in 1997 to commemorate her life.[2] The annual tournament features displays on memorabilia from previous tournaments and Richard's life, including a poster of Follow that Bird.[3]
Sources