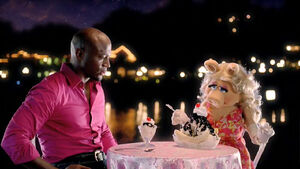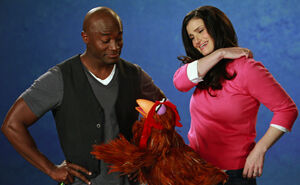 Taye Diggs (b. 1971) is an American actor best known for his roles in the musical Rent and the television series Grey's Anatomy and Private Practice.
He appeared with Miss Piggy and other Muppets as part of the Give a Day. Get a Disney Day. promotion. During the duration of the commercial (with "Bella Notte" from Lady and the Tramp in the background), the pair are seen enjoying ice cream, role playing Cinderella and Prince Charming, and ultimately volunteering their time building a house.
In Sesame Street season 41, Diggs appears with his then wife Idina Menzel, a chicken, a shrimp, and a dog to present the word "allergic." He also appears in a season 45 episode, performing "Let's Go Driving" with Elmo. In 2020, he appeared in Miss Piggy's "Lifesty(le)" segment on the Muppets Now series.
Other television and film credits include The West Wing, Law & Order, and the soap opera The Guiding Light. Diggs' Broadway credits include the musicals Wicked, Chicago, and RENT.

External links