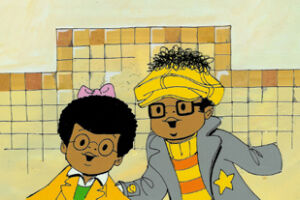 Ted Shearer (1919-1992) was an African American illustrator, cartoonist and painter best known for his work on the comic strip Quincy. He designed the character Billy Jo Jive on Sesame Street.
Born in Jamaica, Shearer grew up in Harlem and sold his first cartoon as a young teenager. Entering the US Army during WWII, he served in the segregated 92nd Division and became an illustrator for Stars and Stripes. He later freelanced, selling drawings to The Ladies' Home Journal, The Saturday Evening Post, and other publications. Shearer went on to become television art director at the famed ad agency of Batten, Barton, Durstine and Osborne before quitting in 1970 to launch the King Features comic Quincy, focusing on a ten-year old inner city kid. The strip ran until 1986.
Beginning in 1976, Shearer and his son, writer John Shearer, collaborated on a series of children's mysteries starring Billy Jo Jive and Smart Susie Sunset. The illustrations, like Quincy, boasted a strong design sense and used ziptone to highlight skin colors. His designs were incorporated by Ray Favata's studio in a series of animated Sesame Street inserts.