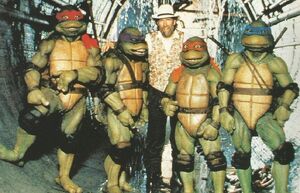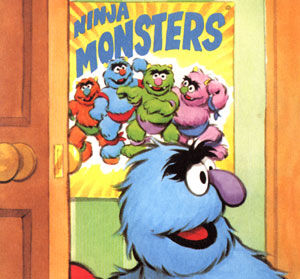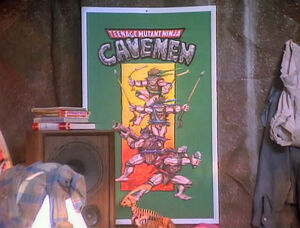 The Teenage Mutant Ninja Turtles are a popular superhero team of anthropomorphic reptiles who began in a series of comics in 1984 and gained greater fame with an animated series which ran from 1987 to 1996. In 1990, the Jim Henson Creature Shop supplied animatronic versions of the characters for a theatrical film adaptation and its sequel. The subsequent live-action films following the sequel and an animatronic television series, The Next Mutation, were produced entirely without the involvement of Henson.
Muppet Mentions
The opening narration of "Attack of the Mousers", an episode from the 2003 animated series, begins: "A very wise frog once said, 'It's not easy bein' green.' But believe me, he didn't know the half of it."
References
Episode 5019 features the comic book "Karate Geckos in Space", a parody of the franchise featuring characters with multi-hued hair (rather than masks) and an adoration for Italian food (spaghetti rather than pizza).
Connections