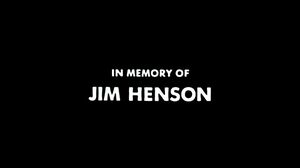 Teenage Mutant Ninja Turtles II: The Secret of the Ooze was the first sequel to 1990's Teenage Mutant Ninja Turtles. The Creature Shop created the creature effects for the film, as they had for the first film. The Creature Shop did not contribute to the third film in the series, Teenage Mutant Ninja Turtles III.
Dedication
The opening credits of The Secret of the Ooze dedicates the film to the memory of Jim Henson. In April 1991, People reported that Henson's family was not pleased:
"

The five children of Jim Henson, who died last May, were surprised to learn that producers of Teenage Mutant Ninja Turtles II: The Secret of the Ooze had included a tribute to the memory of Jim Henson in the film's opening credits... Henson's children, ages 18 to 31, are "quite unhappy" about the credit, according to a source close to them, because it implies that Henson's experience on the original Ninja Turtles movie was a rewarding one. The source says the credit now is "inappropriate" because Henson viewed the violence in Teenage Mutant Ninja Turtles as "excessive, pointless and not his style." A spokesperson for the producers of the Turtles sequel says, "We did it as a tribute to Jim Henson's memory." The rep adds that "key people" at the Henson organization were aware of the credit's inclusion.[1]

"
Reviews
"

Bodacious? Awesome? Teenage Mutant Ninja Turtles II: The Secret of the Ooze wins all prizes for the longest, weirdest, creepiest-sounding movie title since 1963's classic maudit The Incredibly Strange Creatures Who Stopped Living and Became Mixed-Up Zombies -- which it will considerably outgross at the box office.

Other rewards for this slap-happy sequel may be in short supply, though Jim Henson richly deserves the posthumous salute he gets in the movie's credits. Without the stunningly whimsical turtle suits supplied by Henson's Creature Shop -- a set of roguish jolly-green outfits topped with roving eyes, Kermit-like mouths and multicolored headbands-- both movies might look just like they often sound. Pretty tacky."
—Michael Wilmington. Los Angeles Times. March 22, 1991.
Cast
Voices
Jim Henson's Creature Shop
Sources
External links
Community content is available under
CC-BY-SA
unless otherwise noted.