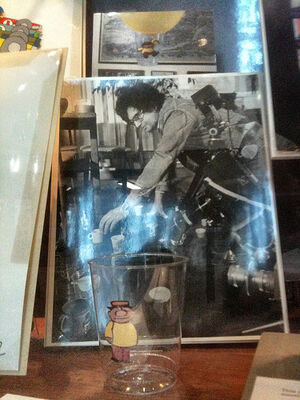 Teeny Little Super Guy appeared in animated segments created by Paul Fierlinger for Sesame Street, beginning in Season 15.[1] Though ostensibly a superhero, Teeny Little Super Guy was actually more of a practical problem solver. Writer Jim Thurman provided the character's gravelly voice, and scripted the segments. The segments were distinguished by Fierlinger's unique animation method, wrapping cels around transparent plastic cups, so that a movement cycle could be achieved by simple rotation of the cups. This also allowed Fierlinger to use a kitchen counter and assorted dishes and kitchenware as props, inside his own kitchen. Some segments featured flashbacks to Teeny Little Super Guy's childhood. Reruns of these segments carried on until Season 32.
The first Teeny Little Super Guy cartoon took two months to create. Fierlinger spoke at length about the character and production process in a 2005 Livejournal post. He initially pitched the idea to producer Dave Connell.
A total of 13 segments were produced.[cite] The theme song and background score were composed by Larry Gold, with lyrics by Stuart Horn. Essra Mohawk sang the vocals, recorded to create the illusion of four-part harmony.[2]
Teeny Little Super Guy later appeared in a cameo during Episode 4196, as one of the seven items Luis manages to extract from Leela's troubled washing machine. Luis gives a rather befuddled look to the camera, as a sample score of his theme song plays.
He appeared in the credits of Sesame Street's 50th Anniversary Celebration, flying with Super Grover, wearing a cape.
Segments
Picture
Theme / First Appearance
Description

Baseball[3]

---

Episode 1900
Teeny Little Super Guy notices that his friend Alice wants to join a baseball game. He encourages her to go over there and ask them whether she can play.

Redhat[3]

---

Episode 1924
R.W. Shipshape gets a "really good hat" for his birthday, and it blows into the street. R.W. remembers not to cross the street without an adult; Teeny Little Superguy helps him across.
Note: The pet spoon that appears in this cartoon is given the name "Arthur J. Cronk", a reference to a character from The Electric Company.

School

---

Episode 1966
Teeny Little Super Guy reminisces to his friend Eugene, who starts kindergarten tomorrow, about his own first day at school.

Sharing a Swing

---

Episode 1967
Two boys are fighting over a swing. Teeny Little Super Guy shows them how to share.

Safety and Danger

---

Episode 1971
Teeny Little Super Guy talks about the time he learned the importance of safety.

Egg Beater

---

Episode 1972
Teeny Little Super Guy finds his friend Janey giving up on learning how to ride an eggbeater (as one would ride a bicycle) because she keeps falling off. Teeny Little Superguy tells her that it takes practice to be good at something and gives her a set of training beaters to help keep her balance.

Pet Spoon

---

Episode 1986
R.W. Shipshape wants a pet spoon, so Teeny Little Super Guy teaches him the importance of being responsible with a pet.

The Importance of Sleep

---

Episode 2047
Teeny Little Super Guy shows his friend Harry the importance of sleep.
Credits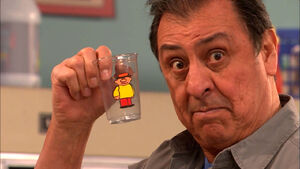 External links
Sources