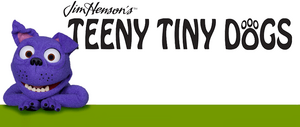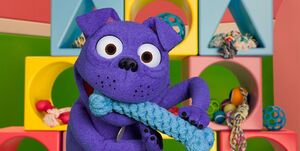 Teeny Tiny Dogs is a series developed by The Jim Henson Company, for Amazon Studios. The series would feature puppet dog characters and teach kids about happiness, coping, and resilience.
A pilot presentation was posted to Amazon on April 22, 2013 to gather viewer feedback. The pilot featured an animatic made of colored storyboards with voiceover. The pilot also included a couple of scenes with the new puppet character Dinky as the final series would be a full-puppet production.
To announce the debut of the animatic, Henson posted the following message on their Facebook page:
"

Hey parents and caregivers! Our next series is in development and we need your help. "Teeny Tiny Dogs" is a hilarious show that features new puppet dogs from The Jim Henson Company and an exciting new happiness curriculum that helps preschoolers build self-esteem, confidence, and resilience. Our animatic is online and we need feedback! Please watch and let us know what you think. Is it good for your child? Do you think s/he would like it? Any comments are welcome! Thank you!

[NOTE: This animatic is only a step in our development process and we use it to inform the look, tempo and story of the series. This is not the final show! We cut in a couple of scenes with our new character Dinky, but our final series will be a puppet production featuring puppets from our workshop performed by our puppeteers. Our completed show will have no animation, but will star lots of Henson puppet dogs! Woof!][1]"
The series was not picked up by Amazon. On May 20, 2013, the Henson Company posted the following message to the Facebook account:
"

It is with regret that we share the news that our show "Teeny Tiny Dogs" did not get a greenlight from Amazon Studios. Unfortunately, we are not privy to the reasons behind their decision to pass, but we are so proud of the incredible support and feedback we received for this project. More people reviewed our episode than any other kids pilot posted on Amazon's site. With the overwhelmingly positive response from viewers, we are going to follow our own show's Happiness curriculum by showing GRATITUDE for our many fans who continue to inspire us to do our best work every day, and by feeling HAPPINESS in knowing that this work is GOOD, MEANINGFUL and WORTHWHILE. While we are very disappointed, we will try to find a home for our Teeny Tiny Dogs.[2]

"
Cast
Sources
↑ The Jim Henson Company on Facebook. April 22, 2013.
↑ The Jim Henson Company on Facebook. May 20, 2013.
External links