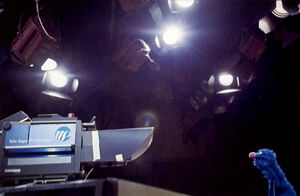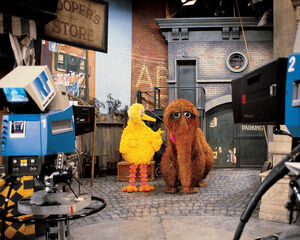 Teletape Studios, a subsidiary of Reeves Entertainment, were American television studios located in Manhattan and former filming locations for Sesame Street.
Originally, the test shows were shot at Videotape Center on West 67th Street (Videotape Center was a joint venture between 3M Corporation and Ampex Corporation that shut down in 1970, with their production facilities being sold to the ABC Network). The show's first season was set to be taped there as well, but due to a technician strike, production resumed at Teletape's Second Stage Studio at 81st Street and Broadway.[1] The original run of another CTW production, The Electric Company, was also shot there.
Caroll Spinney cited that the Second Stage studio was a converted RKO movie theater. "They had leveled the floor where the audience used to sit, and the old proscenium and domed ceiling could still be seen above the new lighting grids and cat walks."[2]
In 1982, they moved to Teletape's Third Stage at 9th Avenue and 55th Street (previously home to The Dick Cavett Show),[3] remaining there for another decade. In 1986, Unitel Video Inc. (which purchased Reeves, Teletape and their assets) took over operation of the facilities. In 1993, prior to shooting Season 25, Sesame Street relocated to the Kaufman Astoria Studios in Queens, where it is still currently being taped.
Sources