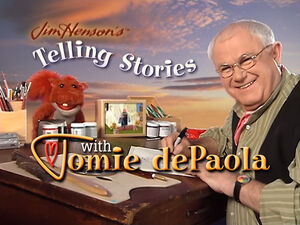 Telling Stories with Tomie dePaola is a Henson Company television show that aired on Hallmark Channel from August to October 2001. The show featured children's book author Tomie dePaola, with his Muppet squirrel friend Gabe, encouraging children to make their own stories in a variety of media. During each episode, Tomie would tell a story featuring his storybook characters -- Strega Nona, Big Anthony and Bambolona. Each episode also featured a visit with a guest storyteller or two (often people connected to the Henson Company), while the last segment had a child actor playing Tomie enacting stories from his book 26 Fairmount Avenue.
Characters
Strega Nona is an elderly village lady who always wants to help her friends, Big Anthony and Bambolona.
The Goat appeared in the Strega Nona stories. Bambolona does not like the goat, and claims that it doesn't really help at all, but the goat is usually shown to have more intelligence than most of the characters. The puppet was built by James Wojtal, working under the supervision of Rollie Krewson. The character of "Goat" was based on the designs from DePola's illustrated "Strega Nona" books. The design featured a departure from the traditional Muppet-look, as the goal was to match the water color illustrations found in the book.[1] The puppet was recycled in Puppet Up! and pops up again in The Simian Undercover Detective Squad.
Episodes
Summaries and air dates from the Roku Channel.
Episode 101: Tales Around the Table
"In this episode Tomie shows us around his studio table."
Guest storytellers: Mary Sue Milliken and Sue Feniger
Aug 6, 2001
Episode 102: Where Do You Get Ideas?
"Tomie tells us about his idea drawer."
Guest storyteller: J.T. Steiny
Aug 7, 2001
Episode 103: What's a Story?
"Tomie offers two drawing - a beginning and an ending."
Guest storyteller: Ed Eyth
Aug 8, 2001
Episode 104: Stories for Myself
"Tomie shows us his sketchbook, a visual journal."
Guest storyteller: Alexandra Nichita
Aug 9, 2001
Episode 105: Food as Storytelling
"Tomie fries up his famous Popeye."
Guest storyteller: Mary Ann Esposito
Aug 10, 2001
Episode 106: That's a Story?!
"Tomie shows how a collection of souvenirs tells a story."
Guest storyteller: Charlotte Bird
Aug 13, 2001
Episode 107: Getting Started
"Tomie suggests ways to get started."
Guest storyteller: Art Clokey
Aug 14, 2001
Episode 108: Character
Episode 109: Setting
"Tomie discusses how changing the setting changes the story."
Guest storyteller: John Iacovelli
Aug 16, 2001
Episode 110: Point of View
"Tomie takes a look at perspective."
Guest storyteller: John E. Barrett
Aug 17, 2001
Episode 111: Performance as Storytelling
"Tomie talks about assuming a character's voice & mannerisms."
Guest storyteller: Martie Barylick
Aug 20, 2001
Episode 112: Every Picture Tells a Story
"Tomie talks about the story behind one of his paintings."
Guest storyteller: Lotus Do Brooks
Aug 21, 2001
Episode 113: Making Sense of Our World Through Stories
"Tomie encourages kids to draw or make up stories to deal with emotions."
Guest storyteller: Jane Yolen
Aug 22, 2001
Episode 114: Taking a Chance
"Tomie tells and shows the origins of his first chapter book."
Guest storyteller: Frank Oz
Aug 23, 2001
Episode 115: Finding Your Audience
"Tomie talks about how stories and artwork change when they are shared with an audience."
Guest storyteller: John Carney
Aug 24, 2001
Episode 116: Funny
"Tomie explains the comedy rule of three."
Guest storyteller: Bill Larkin
Aug 27, 2001
Episode 117: Scary
"Tomie shows how different techniques can create a scary scene."
Guest storyteller: David Barrington-Holt
Aug 28, 2001
Episode 118: Moods: Happy/Sad
"Tomie shows how a few lines can change the mood of a face."
Guest storyteller: Natalie McMaster
Aug 29, 2001
Episode 119: History
"Tomie explains what a time capsule is."
Guest storyteller: Victor Finkel
Aug 30, 2001
Episode 120: Music
"Gabe plays guitar riffs for Tomie that correspond to different moods."
Guest storyteller: Dave Kinnoin
Aug 31, 2001
Episode 121: Make Believe Stories
"Tomie is doodling."
Guest storyteller: Doug Chiang
Sep 4, 2001
Episode 122: Real Stories
"Tomie talks about how family photos can inspire stories."
Guest storyteller: Chris Connelly
Sep 5, 2001
Episode 123: More Than One Way to Tell a Tale - Versions
"Tomie talks about the different ways you can tell a story."
Guest storyteller: Savage Steve Holland
Sep 6, 2001
Episode 124: More Than One Way to Tell a Tale - Techniques
"Tomie shows his 'Cornell boxes' ' using a different technique of art to tell a story."
Guest storyteller: Sule Greg Wilson
Sep 7, 2001
Episode 125: Putting Heart Into Your Story
Episode 126: Collaboration
"Tomie talks about collaboration."
Guest storytellers: Stephen Holman and Josephine Huang
Sep 11, 2001
Cast
Crew
Gallery
Sources
External links