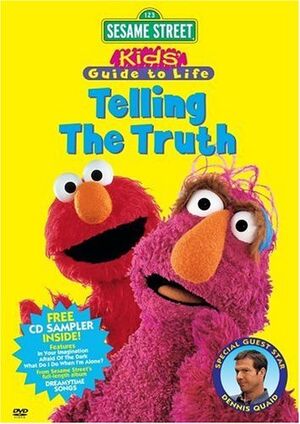 Produced by:
Sony Wonder
Release Date:
1997 (VHS)
2003 (DVD)
Discs:
1
Region:
1
Telling The Truth is a 1997 Sesame Street direct-to-video special in the "Kids' Guide to Life" series.
The DVD version released in the United States includes a CD sampler of "In Your Imagination", "Afraid of the Dark" and "What Do I Do When I'm Alone?" from the album Dreamytime Songs.
Plot synopsis
Telly feels left out when all the other kids at Gina's day care are going to the circus and lies that his uncle is a ringmaster. After Gina reads the story of "The Boy Who Cried Wolf," Elmo has a dream of the story where the boy, named Leo, learns his lesson. When Telly's uncle (Dennis Quaid) drops in for a surprise visit, Telly admits the truth.
DVD chapters
Elmo's Dream
Telly's Tall Tale
Meeting the Wolf
Telly Tells the Truth
Off to the Moon
A Special Message from Dennis Quaid
Releases
Notes
Prior to commercial release, the video was titled "Telly Tells the Truth." A promotional demo VHS was produced with a slightly different cover (with a circus poster in place of Elmo), though the contents of the video refer to it by its final title. The video also opens with a different title card read by a male voiceover, whereas Telly reads the title in the final version.
Cast
Starring Jim Henson's Sesame Street Muppets:

with Muppet Performers: David Rudman, Carmen Osbahr, Pam Arciero, Peter Linz, Noel MacNeal, Jim Martin, Alice Dinnean, Stephanie D'Abruzzo, Matt Vogel, John Kennedy, and Kevin Clash
Credits
Executive Producer: Nancy Kanter
Produced by Karin Young Shiel
Written by Nancy Sans
Directed by Lisa Simon
Songs by Sarah Durkee & Paul Jacobs
Production Designer: Victor DiNapoli
Costume Designers: Bill Kellard, Terry Roberson
Production Managers: Christina Delfico, Zoya Kachadurian
Associate Director: Ken Diego
Music Supervisor: Dave Conner
Talent Coordinator: Danette DeSena
Camera: Frank Biondo, Mark Whitman
Audio: Blake Norton, Carla Bandini-Lory
Music Coordinator: Danny Epstein
Executive in Charge of Production for Sony Wonder: Becky Mancuso-Winding
Special Thanks to Lou Berger, Marjorie Kalins, Nan Halperin, Jodi Nussbaum, Ted Green, Wendy Moss, Renee Rachelle
Taped at Kaufman Astoria Studios in New York