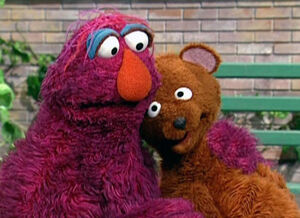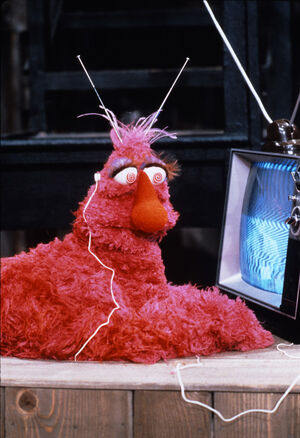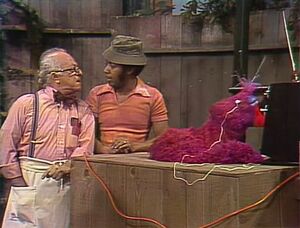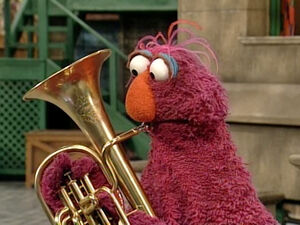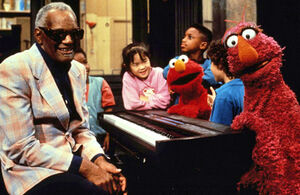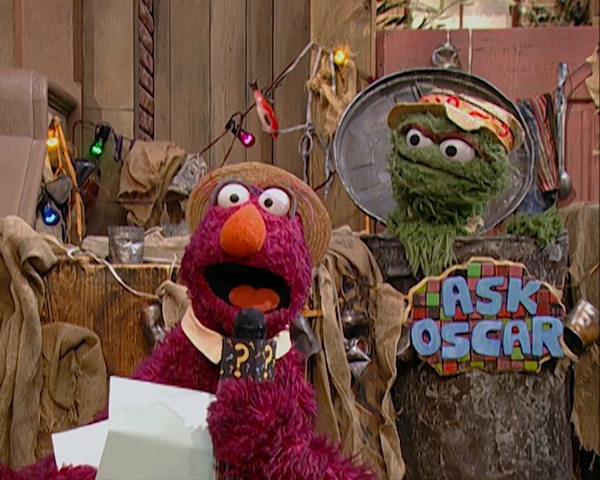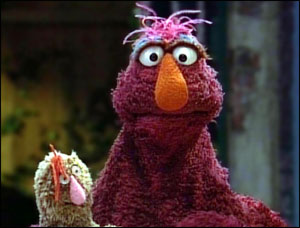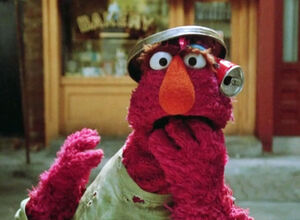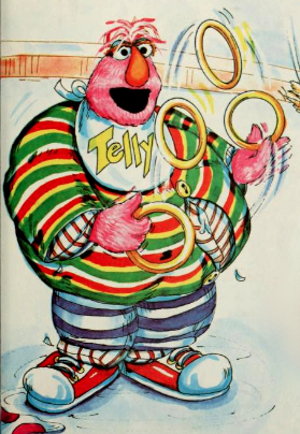 Telly Monster is a slightly neurotic young monster who lives at 1304 Sesame Street.
Telly was initially conceived as a monster obsessed with watching television; his name is short for Television Monster. In his early appearances on Sesame Street, Telly had antennas coming out of the top of his head, and his eyes would whirl around when he watched TV. His first appearance on the show was in Episode 1257, during the tenth season. This one-note personality, along with the antennas and whirling eyes, was soon dropped, and Telly became the worrying, easily frustrated character he remains today (however, in the Talk, Listen, Connect episode Deployments, he is still shown to be an expert on TV and computers).
Telly was originally performed by Bob Payne for his first few appearances in 1979, then by Brian Muehl who used a low, gruff-sounding voice. Muehl also developed Telly's worrywart personality, making Telly a character who always needed reassurance in order to be confident. When Martin P. Robinson took over in 1984, he originally began with the personality Muehl already established for the character, using a voice similar to Muehl's Telly voice. However, Telly evolved over time, gaining a much stronger emotional range. "His main thing now is that he believes totally in whatever he's into," says Robinson "And he can turn on a dime and that doesn't belie what he was feeling before. He can go from great joy to great sorrow and it's all totally genuine."[1]
Early on, Telly was often paired with Oscar the Grouch, whom he tried to befriend against tremendous odds. The two were traveling companions in Follow That Bird, and Telly is a member of Oscar's fan club, the Grouchketeers. The two starred in two recurring sketches together: "Ask Oscar," which Telly introduced; and "Sneak Peek Previews." A more recent pairing together was in a sketch demonstrating words that begin with the letter B. (First: Episode 4248)
In recent years, Telly has often been seen in the company of his good friend Baby Bear. Telly has a great love of triangles, and owns a pet hamster named Chuckie Sue. Telly has a favorite toy doll which he named "Freddy." When Telly was a baby monster, his favorite toy was a stuffed animal horse which he named "Clark" before he got "Freddy". In the video Bedtime Stories & Songs, when Telly comes to Big Bird's nest for a sleepover, he brings a menagerie of different stuffed animals that almost overflow the entire nest. He also plays the bassoon, the tuba and, of course, the triangle. He also occasionally appears as a Monster on the Spot reporter. He also often jumps on a pogo stick, after Mr. Handford taught him how to in a 1993 episode.
Modern versions of the Telly puppet have movable eyelids to let his eyes widen, a handy technique when the monster is in panic mode. There are also two Telly puppets that have been interchangeably used throughout the show.[2] The more frequently used version is a "sack puppet", similar in design to Cookie Monster or Rowlf the Dog, where the arm sleeves are directly attached to the base of the puppet. The second version is a full-body version of the character, with legs and feet attached. The puppet's arms are stuffed, with visible arm sleeves similar in design to the arms of Ernie or Fozzie Bear.
For Sesame Street's 40th season, Sesame Workshop featured a digital promotion called "Muppetbook", which featured profiles similar to those seen on Facebook. The profile listed squares, circles, and Woody Allen movies (too much anxiety) as Telly's pet peeves. Among his favorite songs are "I Whistle a Happy Tune," "Don't Worry, Be Happy," and "Don't Cry Out Loud."
Notes
Filmography
Book appearances
Character merchandise
Sources
See also