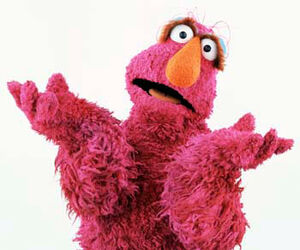 Telly Monster is a slightly neurotic young monster who lives at 1304 Sesame Street.
Early on, Telly was often paired with Oscar the Grouch, whom he tried to befriend against tremendous odds. The two were traveling companions in Follow That Bird, and Telly is a member of Oscar's fan club, the Grouchketeers. The two starred in two recurring sketches together: "Ask Oscar," which Telly introduced; and "Sneak Peek Previews." They were paired again in 2010 in a sketch demonstrating words that begin with the letter B. (First: Episode 4248)
Since the early 1990s, Telly has often been seen in the company of his good friend Baby Bear. Telly has a great love of triangles, and owns a pet hamster named Chuckie Sue. Telly has a favorite toy doll which he named "Freddy." When Telly was a baby monster, his favorite toy was a stuffed animal horse which he named "Clark" before he got "Freddy". In the video Bedtime Stories & Songs, when Telly comes to Big Bird's nest for a sleepover, he brings a menagerie of different stuffed animals that almost overflow the entire nest. He also plays the bassoon, the tuba and, of course, the triangle. He also occasionally appears as a Monster on the Spot reporter. He also often jumps on a pogo stick which he learned from Mr. Handford in Episode 3115.
Telly's family has been represented most prominently by his older sister Mona Monster. His mother has also made a few appearances, he has a younger sibling mentioned in Episode 1870, and various other members of his extended family. According to Episode 2278, his father is an insurance salesman.
Modern versions of the Telly puppet have movable eyelids to let his eyes widen, a handy technique when the monster is in panic mode. There are also two Telly puppets that have been interchangeably used throughout the show.[1] The more frequently used version is a "sack puppet", similar in design to Cookie Monster or Rowlf the Dog, where the arm sleeves are directly attached to the base of the puppet. The second version is a full-body version of the character, with legs and feet attached. The puppet's arms are stuffed, with visible arm sleeves similar in design to the arms of Ernie or Fozzie Bear.
Origins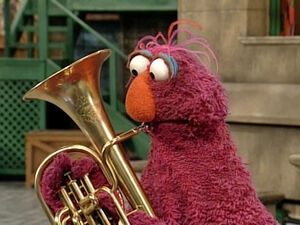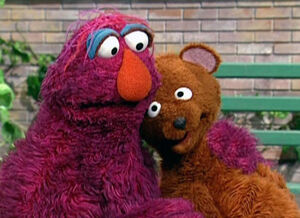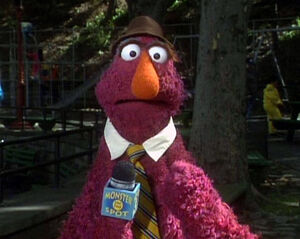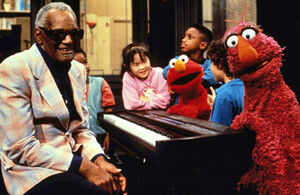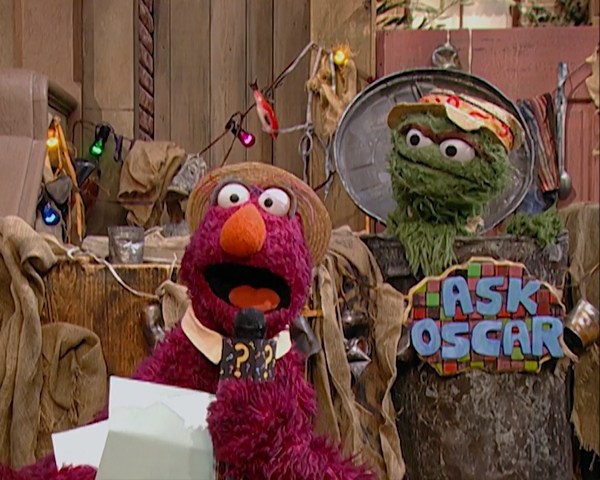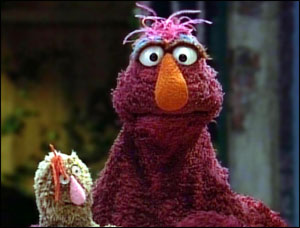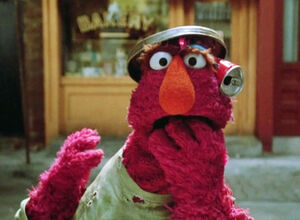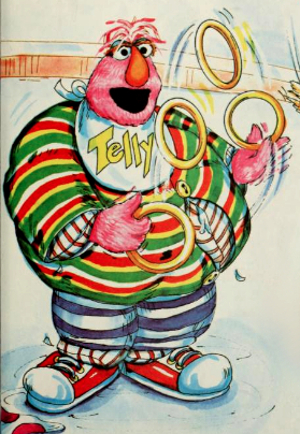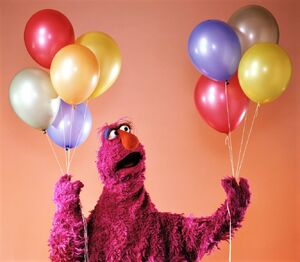 Telly was initially conceived as a monster obsessed with watching television; his name is short for Television Monster. The character was first seen in Episode 1257, during the tenth season, performed here by Bob Payne. This particular build of the puppet had antennas coming out of the top of his head, and his eyes would whirl around as he endlessly watched TV. An idea of making him a cyclops was dismissed early on.[2]
However, producers felt the character would serve as a negative role model for children by encouraging them to sit just as close to their own television screens, and no new material was produced for the character[3] with some scenes featuring Telly even being removed from his origin episode before taping began.[4]
The following season, the Telly puppet was stripped of the antenna and whirling eyes and became a generic monster[5] appearing in some episodes (such as Episode 1343), where he communicates purely in monster grumbles. He made an early speaking appearance in an insert with Suzanne Farrell, practicing on the barre with Herry and an AM Monster. (First: Episode 1387)
Later in production for that season, Caroll Spinney fell off his bicycle while riding to the studio and his swollen ankle prevented him from performing Big Bird for some shows. Jon Stone quickly refitted the episodes (including Episodes 1411 and 1412) to instead feature Telly.[6] The character was given to Brian Muehl, who developed a low, gruff-sounding voice for Telly. By the twelfth season, Telly became a more prominent character and Muehl had developed Telly's worrywart personality, making him a character who always needed reassurance in order to be confident.
When Martin P. Robinson took over in 1984, he originally began with the personality Muehl already established for the character, using a voice similar to Muehl's Telly voice. However, Telly evolved over time, gaining a much stronger emotional range:
Another of Telly's more definable traits, his affinity for triangles, was developed by writer Lou Berger in Episode 2780 (1990). Berger noted that he wished to give Telly a passion for something outside of being neurotic and became inspired when seeing his son playing with some triangles at home.[8]
Notes
Filmography
Album appearances
Book appearances
Character merchandise
Sources
See also