Music by
Nacio Herb Brown
Lyrics by
Arthur Freed
Date
1933
Source
Going Hollywood (film)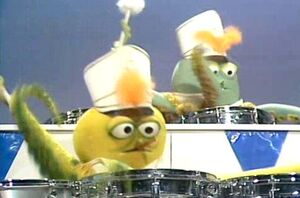 "Temptation," by Nacio Herb Brown and Arthur Freed, was first performed by Bing Crosby in the film Going Hollywood. It was later recorded on multiple occasions by Perry Como, whose renditions landed on the pop charts in both 1945 and 1974.
"Temptation" is the favorite song of the Muppet Glee Club, which consists of Miss Piggy, two male pigs, four male frogs and four female chickens. The Glee Club performs the song in its first and only performance in episode 101 of The Muppet Show, but only after its members fail to sing anything at all and then sing completely different songs over each other. When conductor Kermit the Frog lets "Piggy, honey" take the solo in her first featured performance, she marches down the risers and throws herself at Kermit, ultimately pinning him to the ground before chasing him offstage..
A trio of octopuses play an instrumental version of "Temptation" on drums and kazoos in episode 505 of The Muppet Show.
Notes
Muppet Glee Club version
Frank Oz puppeteered Miss Piggy and provided her spoken dialogue, but Richard Hunt performed her singing voice. This was the only time that Richard Hunt would perform Miss Piggy's vocals in a musical number. When the clip was used in the home video The Kermit and Piggy Story, the difference in voice was explained by Piggy saying that it was before she hired her vocal coach.
Releases
Video
Community content is available under
CC-BY-SA
unless otherwise noted.