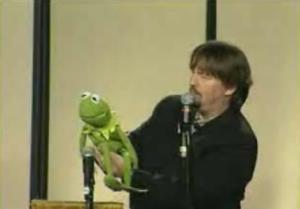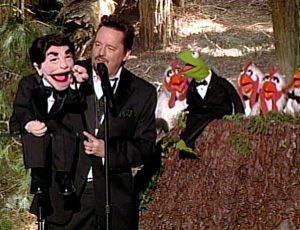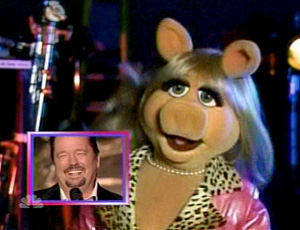 Terry Fator (b. 1965), is a ventriloquist, impressionist and singer from Dallas, Texas. He was the winner of Season 2 of America's Got Talent.
Terry Fator has listed Jim Henson as his biggest hero - surpassing Edgar Bergen, Shari Lewis and his other great influences.
"

My biggest hero of all has to be Jim Henson, the man who taught me (through Sesame Street and the Muppet Show) just how real a puppet can be if the person creating the character works hard enough.[1]

"
Fator's live shows often include a small Kermit puppet as part of the act. Fator would use his puppetry, ventriloquist and impressionist talents to bring the frog to life. Fator and "Kermit" would make jokes and sing "Rainbow Connection".[2]
During the week 7 round of performances on America's Got Talent, Factor performed "What a Wonderful World" with his puppet Winston the Impersonating Turtle. Winston sang while impersonating "the world's most famous amphibian" - Kermit the Frog.[3]
Fator was able to work with Kermit the Frog as part of the season finale of America's Got Talent. Fator commented on what it was like when he received the phone call from Kermit informing Fator of their duet saying:
"

I recognized the voice right away. At first I thought it might be someone doing an impression. I mean he's been in the business for fifty years. He's performed with such people as Tony Bennett, Frank Sinatra[4] and now me! I will never forget this moment for as long as I live.

"
Terry Fator performed "
You've Got a Friend
" with Kermit the Frog while ventriloquisting a puppet (Johnny Vegas) that impersonated
James Taylor
and sang the song. Kermit punctuated the number by bringing a chorus of
Muppet chickens
that joined in towards the end of the number. After the performance Fatctor was "judged" by a panel of judges made up of
Animal
,
Beaker
and
The Swedish Chef
.
Miss Piggy
sent via a personalized video message to Fator wishing luck in the contest.
Factor commented on the experience in a post-show interview:
"

[It was] unbelievable to perform with Kermit the Frog. Again, another dream come true. I've been dreaming about that since I was six. I use to watch him on Sesame Street, and I remember thinking "oh, I want to sing a song with Kermit". And tonight it all happened. And to have the Muppets there just saying nice things about me. And then Miss Piggy! Oh! It was at that point that I said "you know the only thing better is to win this thing. But even if I don't win, I just had the Muppets. I just had the Muppets!" So, you know, it was unbelievable. I really enjoyed it.[5]

"
Sources
External links