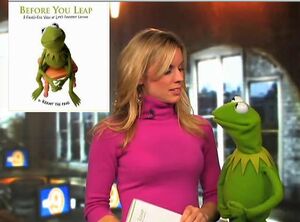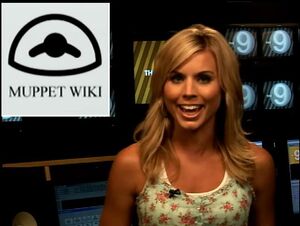 The 9 was a daily web video show on Yahoo! hosted by Maria Sansone. The program featured the day's nine must-see links on the internet. It ran from July 10, 2006 to March 31st, 2008.
Appearances
Kermit the Frog appeared on "The 9" on Friday, December 8, 2006. In his appearance he promoted the Muppets' new album A Green and Red Christmas, and his new book Before You Leap. He also sang a few bars of "Have Yourself a Merry Little Christmas", talked about playing the banjo, and flirted with Maria.
Kermit appeared in 5 of the 9 segments:
9. A Ribbit-ing Performance (for A Green and Red Christmas, link to amazon.com)
8. Sound Check (for naturesound.com)
7. A Frog's Eye View (for Before You Leap, link to amazon.com)
6. Strummin' on the Old Banjo (for cvls.com)
1. Maria the Matchmaker (for cuteoverload.com)
Muppet Wiki
Muppet Wiki was featured in the 4th portion of the August 3, 2006 broadcast. The 20 second segment features Muppet Wiki's logo and includes pictures of Rowlf the Dog, Miss Piggy on the cover of Life magazine, "those cranky old men," and "Kermie." Sansone boasts that Muppet Wiki is her favorite new website.
External links
Community content is available under
CC-BY-SA
unless otherwise noted.